News
TCV launches Natural Talent UK traineeships across the UK
7 October 2014
Having secured funding from the Esmée Fairbairn Foundation, national charity The Conservation Volunteers (TCV) will be launching their UK-wide Natural Talent programme this Friday 10th October where they will deliver 12 new Natural Talent traineeships throughout the UK over the next two years. Oxford Traineeship
The Natural Talent UK traineeship programme aims to increase expertise across the whole of the UK to protect our less well known species and create awareness of the habitats that support them. TCV's Natural Talent UK scheme follows on from the very successful Natural Talent Apprenticeship programme that has delivered 44 apprenticeships since 2006 and was funded by the Heritage Lottery Fund. Full press release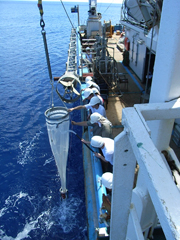 Planktonic foraminifera being hauled up 1.5km in the South West Indian Ocean during the GLOW Cruise aboard RV Pelagia.
A lesson from the past: Greenhouse gas release caused 40°C ocean
11 September 2014
A rapid rise in greenhouse gases around 56 million years ago resulted in sea surface temperatures as high as 40°C with significant impacts on marine life, according to new research published in the September edition of the scientific journal Geology.
The period, known as the Palaeocene-Eocene Thermal Maximum (PETM), lasted for around 170,000 years and saw the release of roughly the same volume of CO2 as expected from modern fossil fuel consumption.
The research, conducted by Dr Tracy Aze, a research fellow at the Oxford University Museum of Natural History, could have implications for the understanding of climate change in the future.
"The amount of CO2 that is predicted to be released from the Industrial Revolution to around 100 years from now is roughly equivalent to what happened in the PETM," says Dr Aze. "But the big difference is the rate of release: today we are releasing greenhouse gases at a far faster rate than 56 million years ago." Full press release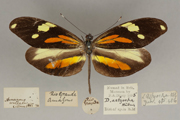 Wallace specimens unearthed: a work experience student has unearthed priceless Alfred Russel Wallace specimens. A 17-year-old student who spent just four weeks at the Oxford University Museum of Natural History has rediscovered hundreds of priceless specimens collected by Victorian natural historian Alfred Russel Wallace (1823-1913). At the Museum, Athena was tasked with searching 3,340 drawers of butterflies looking for specimens collected by Wallace, the famous naturalist who independently conceived a theory of evolution by natural selection at the same time as Charles Darwin. Her project was part of the Museum's programme of activities surrounding the 2013 centenary of Wallace's death in November 1913. Read more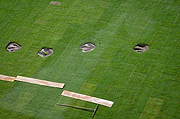 Dinosaur footprints return: casts of footprints laid down by a Megalosaurus dinosaur in Oxfordshire over 160 million years ago have been reinstalled outside the Museum of Natural History ahead of the Museum's reopening next year. But rather than put the prints back in the same position as before, Museum staff have taken the opportunity to update the trackways by using current scientific ideas about the way the dinosaur moved. The prints are casts taken from a fossilised trackway discovered at Ardley Quarry near Bicester in 1997. It is thought that they were made by the large, three-toed carnivore Megalosaurus bucklandii, which roamed the lagoons of Jurassic Oxfordshire some 166-168 million years ago. Read more
For media enquiries please contact scott.billings@oum.ox.ac.uk