Vacancies in the Museum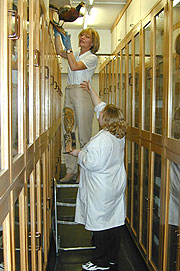 Staff working in the stores
Natural Talent UK Traineeships
Saproxylic Insects based in Oxford
The Natural Talent UK traineeship programme aims to increase expertise across the whole of the UK to protect our less well known species and create awareness of the habitats that support them.
Staff at the Museum always welcome keen volunteers to work in the collections or to help out at one of the family events. As a volunteer you will receive support, training and a unique insight into the work of the Museum. To find out more, contact the Museum or browse the list of volunteer opportunities that are currently available.
Enquiries regarding volunteer opportunities should be sent to: volunteers@oum.ox.ac.uk