Metamorphosis 2012
The Museum has run several Bug Quest and Metamorphosis projects over the past few years. Oxfordshire Primary School students have had the opportunity to learn about arthropods (insects and other "minibeasts") found in their environment and the skills scientists use to study them.
This is our second year of a science-based transition project called Metamorphosis. This year we will be running the project with Cherwell School and primary schools in the Cherwell partnership.
Metamorphosis is a skills-based project involving practical work. We plan to use the Museum's world-class entomology collection including live specimens, keen team of educators, curatorial staff and scientists. Sessions are also developed in conjunction with science teachers from local secondary schools.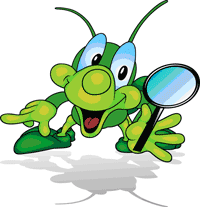 Participating classes visit the Museum for a special training workshop, looking at the features of insects and other arthropods, the use of keys for identification, the collection of reliable data and how data can be interpreted.
At school students set special insect traps every two weeks through the spring and summer terms at chosen locations in the school building. They use keys provided by the Museum to identify trapped specimens. The Museum provides access to an online spreadsheet to enter data collected, from which graphs, pie charts and bar charts can be created.
At the end of the project students will present their findings as a scientific poster as part of a celebration event at Cherwell School.