Collections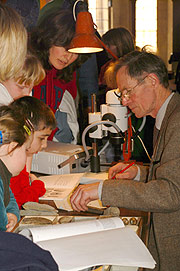 A fossil identification workshop
The Museum is an important centre for research and teaching, and is organised into Life Collections, Earth Collections, and Archival Collections.
Search collections online: The Museum aims to make its collections as accessible as possible. To search the Museum's online databases select the subject link from the menu on the left, and then select databases.
We have recently launched a new unified Collections Online website. At present it holds the Lepidoptera (butterflies and moths), the minerals, and the archives. We will continue to migrate data from our existing online databases to the new site.
Scientific enquiries: every year hundreds of rocks, fossils and other finds are identified by our team of curators and scientists. If you have found anything of interest, bring it along on your next visit to the Museum.
Important note: the Museum does not condone any illegal action, including the collection of birds' eggs, trapping live animals or unauthorised work in quarries.
Nuffield Research Placements
The Museum hosts Nuffield Research Placements in our Life and Earth collections in the fields of zoology, entomology and geology. Projects cover a wide range of disciplines from collections based curation and research to insect ecology and ecosystem services. Previous project titles include "Darwin's Insects in the Hope Entomological Collections", "Burchell's African Insect Collection" and "Dung Beetle Ecology". All our Nuffield Research Placements take place through Science Oxford.