Entomology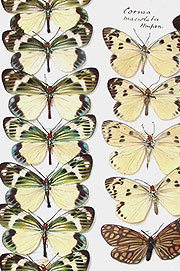 Butterflies in the collection
Within the United Kingdom, the Hope Entomological Collections are second in size and importance to the national insect collection at the Natural History Museum, London. The collection houses over 25,000 arthropod types, and comprises over 5 million specimens. Of particular significance are:
Hope-Westwood collections
Extensive historic collections
The Verrall-Collin collection of Diptera
Comprehensive British collections
The Pickard-Cambridge and Blackwall arachnid collections
The Wytham Woods collections
To find out more, please search the entomological collections and the associated archives.
Collections staff have varied research interests in insect taxonomy, ecology, and the epidemiology of insect-borne disease. Please visit our blog for the latest news.
Enquiries regarding the collections should be sent to: entomology@oum.ox.ac.uk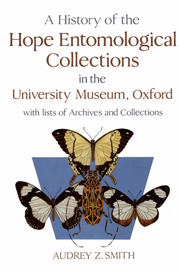 Smith, A. 1986. A History of the Hope Entomological Collections
For information about the Entomological Collections and associated academics please download this free version.
Complete book, 9597Kb
For slower internet connections it may be easier to download the book in four separate parts.
Part one, 5270Kb
Part two, 1534Kb
Part three, 3009Kb
Part four, 488Kb
Stanley Bowestead and Thomas M. Eccles, 2012. Drawing Techniques for Publication Download
Further information about insects can be found in Learning more
Children can discover the world of insects in the Learning zone