Entomology: collectors and collections
Frederick William Hope
The entomological collections are of great historical importance and represent one of the best entomological resources in the United Kingdom. They began with the bequest by the Reverend Frederick W. Hope of his entire collection in 1849. The Hope Professors, Westwood, Poulton, Hale Carpenter and Varley also amassed large amounts of material, both through their own research, and from donations by other contemporary entomologists.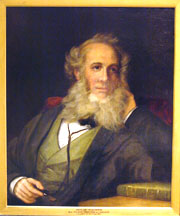 John Obadiah Westwood
The following articles give further information concerning the entomological collections and archives, and the Diptera type material.
Entomological collections
A summary of the collections at the Museum
Entomological archives
A summary of associated archival material
The Diptera
The important collections of Verrall, Collin, Bigot and Macquart
Enquiries regarding the collections should be sent to: entomology@oum.ox.ac.uk