Geology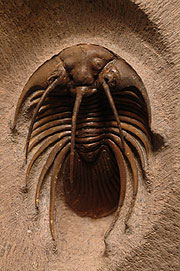 A trilobite fossil
The Geological Collections comprise more than 375,000 specimens, of which over 1,400 are type specimens. There are many historic specimens including those of Edward Lhwyd, William Buckland, John Phillips, and Charles Lyell. Of particular significance are:
Lower Palaeozoic shelly faunas
Yorkshire Carboniferous
Jurassic vertebrates and invertebrates
Cretaceous invertebrates
Tertiary mollusc collections
Pleistocene and Holocene vertebrates
The 'Red Lady of Paviland'
Collections staff maintain an active acquisition policy. Recent additions have included invertebrate specimens from the Cretaceous of South Africa and France; a unique soft-bodied fauna from the Silurian of the Welsh Borderland; arthropod material from the Cambro-Silurian of the United Kingdom, Scandinavia, Estonia, the Czech Republic, North America and China; an essentially complete skeleton of the marine reptile Peloneustes from the Jurassic of Oxfordshire; and Jurassic specimens from the M40 motorway excavations.
Enquiries regarding the collections should be sent to: geology@oum.ox.ac.uk
Further information about fossils and geology can be found in Learning more
Children can discover the world of fossils in the Learning zone