Mineralogy and Petrology
The Mineral Collections comprise over 30,000 mineral specimens from localities worldwide, as well as collections of gemstones, meteorites, mineralogical instruments, and an important archive of correspondence and research notes. Since 1998, Mineral Collections staff have taken charge of the University's petrological collections comprising around 50,000 specimens.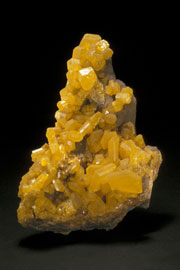 Native sulphur from Sicily
Exceptionally fine minerals presented by Dr Richard Simmons
The decorative stone collection of Faustino Corsi acquired in 1827
Historical collections of William Buckland and his wife Mary Morland, John MacCulloch and Charles Daubeny
Systematic mineral collections of chemists Sir Henry Enfield Roscoe and Dr Hugo Muller
Specimens formerly belonging to John Ruskin and the 2nd Duke of Buckingham in the mineral collection of publisher George Allen
The petrology collections of Lawrence Wager and Keith Cox
British minerals collected in the 1970s and 1980s by Morrison Thomas
Collections staff have varied research interests and maintain an active acquisition policy.
Enquiries regarding the collections should be sent to: mineralogy@oum.ox.ac.uk
Further information about minerals and rocks can be found in Learning more
Children can discover the world of minerals and rocks in the Learning zone