Zoology: staff
Collections staff have varied research interests and maintain an active acquisition policy, collecting invertebrate material from localities in Britain and throughout the world. Further details of their work are summarised below, and a list of selected publications is available to download.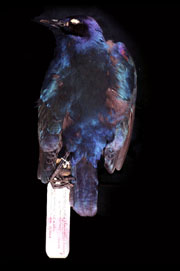 Assistant Curator: Dr S. De Grave BSc MSc PhD
Collections Manager: Mrs M. Nowak-Kemp BSc MSc
Honorary associate curator:
Mr J. Davies MA
Honorary research associates:
Mr R. Overall
Professor K. S. Thomson MA BSc PhD
Dr Sammy De Grave Assistant curator
Research interests: taxonomy and ecology of caridean shrimps; the genus

Philocheras

in Australia and New Zealand; annotated catalogue of Alpheidae of the world Phylogeny and biogeography of the genus

Palaemonetes

; Pontoniinae from Sulawesi.
Selected publications from the zoology collections (PDF, 44kB)
To read this file you will need to download Adobe Reader
Enquiries regarding the collections should be sent to: zoology@oum.ox.ac.uk