Zoology: searchable databases
At present, there are online zoology databases which detail all of the bird and mammal specimens in the collection. Electronic catalogues of a small collection of Charles Darwin's material, and the extinct and endangered species in the collections are also available. Work on the database of the human remanins in the collections is progressing. Currently there are approximately 500 records online. The database will be continuously updated.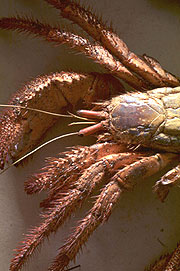 A crab from Darwin's collection
The databases and details of how to search them are outlined below.
Search the mammals database
Over 5,000 specimens representing 750 species, including British material
Search the birds database
Over 17,000 bird skins from around the world representing 5,000 species
Search Charles Darwin's collection
Dried crustacea collected on the voyage of The Beagle
Search the extinct and endangered database
Around 2,000 specimens cross-referenced with the IUCN 2000 Red List
Search the human remains database
1,100 specimens representing the species of the genus Homo
How to use the databases
A guide to searching the databases
Enquiries regarding the collections should be sent to: zoology@oum.ox.ac.uk