Learning more ... zoology
The zoological collections hold some of the oldest specimens in the Museum, including the famous Oxford dodo.
The following articles introduce the zoology displays of the Museum, describing the Oxford dodo and the lower vertebrates. They also feature the swifts in the Museum tower, the Museum's Alice connection, and include biographies of zoology's most famous collectors.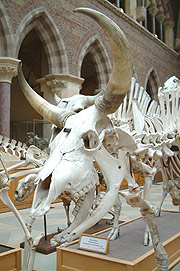 The Oxford dodo
The dodo at the Museum and the research it has generated
The Museum swifts
The swifts of the tower
Alice and the Museum
The famous connection with Lewis Carroll
Charles Darwin
An introduction to Darwin, and the material he collected during his voyage
Thomas Bell
Bell's life and the important collections he gave to the Museum
William Burchell
A brief biography of this important zoologist's life and work
Learning more articles are free to all users for educational, non-profit purposes.
They are PDF format and are usually 500kB or less in size.
To read these files you will need to download Adobe Reader