Research
3D digital model of Xylokorys chledophilia, a fossil arthropod from the Silurian of Herefordshire, UK
The Museum of Natural History at the University of Oxford has been a centre of world-leading research and scientific debate since it opened in 1860. The Museum was the location for the Great Debate of 1860 between Samuel Wilberforce and Thomas Huxley, and was also host to Nobel prize-winning research on the molecular structure of insulin, penicillin and vitamin B12 by Dorothy Hodgkin.
Research in the Museum encompasses geology, palaeobiology and zoology, with a focus on material housed in the extensive Earth and Life collections. Current research strengths include:
Morphology, systematics, ecology and phylogeny of modern and fossil arthropods, echinoderms and molluscs (De Grave, Inchley, Murdock, Pérez-de la Fuente, Rahman, Siveter, Sumner-Rooney)
Digital morphology (Lewis, Murdock, Pérez-de la Fuente, Rahman, Siveter, Sumner-Rooney)
Earth systems and biological processes before, during and after the Cambrian Explosion (Matthews, Murdock, Rahman, Siveter, Smith)
Biodiversity and conservation (De Grave, Mann)
The museum has very well-equipped laboratories for palaeontological and zoological imaging and micropalaeontology. Resources include a laser scanner, several multifocal plane microscopes, a desktop scanning electron microscope and a 3-D printer. The research group also has strong links with several external partners, facilitating access to computed tomography and synchrotron beamline facilities.
Researchers actively participate in the Museum's extensive public engagement programme, and are involved in the development of displays and external exhibitions.
Our research is currently funded by AHRC, BBSRC, NSF China, CEPF, the Leverhulme Trust, Nikon and the University of Oxford John Fell Fund, among other sources.
The Museum of Natural History also hosts a competitive research fellowship scheme that supports early-career scientists through a charitable foundation.
We welcome approaches from early-career researchers who might wish to hold independent research fellowships in the museum.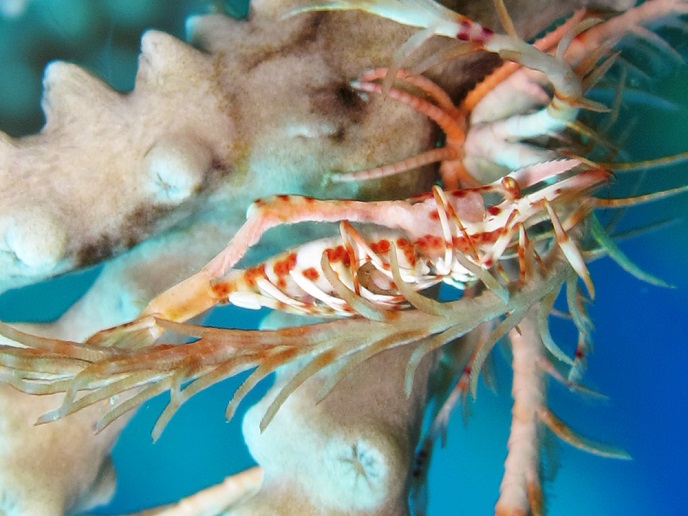 Periclimenes rincewindi, a crinoid associated shrimp from the Caribbean