Volunteer at the Museum
The Museum is open to visitors of all ages and hosts a busy calendar of events and activities all year round. To assist us we have a strong group of volunteers.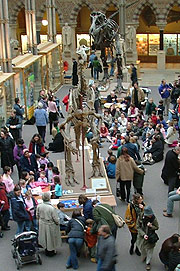 A family activity in the main court
Our team of volunteers have a great time, receive training, and gain valuable experience in Museum education.
Please visit www.museums.ox.ac.uk/volunteers for more information about volunteering at the Oxford University Museum of Natural History or at other Oxford University Museums and Collections.