Exhibits and features
The Museum's permanent exhibits are devoted to the history and diversity of life on earth, and to the rocks and minerals from which it is formed.
The Museum was designed as a 'cathedral to science', and home to the University's scientific collections. It represents a spectacular example of neo-Gothic architecture and has an illustrious history. It played host to the famous evolutionary debate between Huxley and Wilberforce in 1860, and is now known for many famous features - the Oxfordshire dinosaurs, the dodo, Alice, and the swifts in the tower.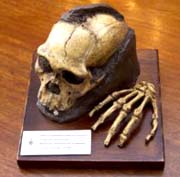 The Museum has recently been presented with the cast of the skull and hand of Australopithecus sediba by the University of Witwatersrand in South Africa. Australopithecus sediba is a newly discovered species that seems to straddle the Australopithecines and Homo. It is 1.98 million years old. Its discovery in 2008 was greeted with great excitement, as for the first time ever, not only were two specimens discovered, an immature male and mature female, but the completeness of the skeletons was astounding, and one of the hands was preserved fully articulated! The first fossil bone was discovered by nine-year-old Matthew Berger while he was exploring the Cradle of of Humankind site at Malapa with his father. The casts of the skull and hand will be used for undergraduate teaching, and will be on display in the Primate Evolution cases, downstairs on the northern side of the Museum.
Let the Dodo introduce you to the swifts in the tower and the Oxfordshire dinosaurs. Then you can hear about the 4,500,000,000 year-old meteorite, Darwin and the Great Debate, and finally the displays in the Upper Gallery. These recordings are from a BBC Radio Oxford series called Night at the Museum. They were written by Georgina Ferry and produced by Judith Paskin. Peter Hearn is the Oxford Dodo, and the other exhibits are voiced by local comedy duo Ralph Jones and Thom Short.
In 2010 the Museum celebrated its 150th anniversary with exhibitions and events, including a series of lectures. The speakers included Marcus de Sautoy, Richard Fortey and Tracy Chevalier. 150th Anniversary Lectures
A few of our favourite things - a selection of favourite objects, places and features chosen by the people who work within the Museum.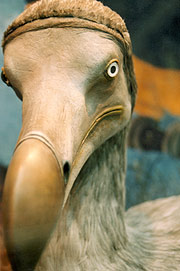 A model of the dodo on display
To find out more download one of the free leaflets listed below.
Displays of the main court
Introducing the displays of the central aisle
The dinosaurs in the Museum
The Megalosaurus and others
Alice and the Museum
The famous connection with Lewis Carroll
The Oxford dodo
The famous Oxford specimen
The Museum swifts
The famous swifts of the tower
Architecture of the Museum
The design and beauty of the building
Statues in the court
Great scientists depicted in stone
Stonework of the Museum
Columns, capitals and corbels around the gallery
These articles are PDF format and are usually 500kB or less in size.
To read these files you will need to download Adobe Reader
For a more complete list of articles visit Learning more