Art Fund Prize 2012 - Unsung Heroes
Congratulations to Roy Overall, who has been awarded the Unsung Heroes prize in recognition of his work maintaining and documenting the Museum's colony of swifts. Roy took over the monitoring in 1962, and has been responsible for ringing more than 4,000 birds during his involvement with the Oxford Swift Project.
Each nesting season for the past 50 years Roy has climbed the Museum tower twice a week to monitor the swifts. Roy's unpaid dedication is remarkable, and the Museum marked his commitment in 2009 with an Honorary curatorship. The project is now being run by Oxford University zoologists from the Edward Grey institute.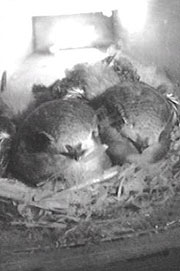 View the swifts webcam (May to August only)
Swift statistics for 2012 - This year's diary
Swift statistics for 2011
Swift statistics for 2010
Swift statistics for 2009
Swift statistics for 2008
Swift statistics for 2007
Swift statistics for 2006
Swift statistics for 2005
Learn more about the swifts in the tower (PDF, 240kB)