Vacancies in the Museum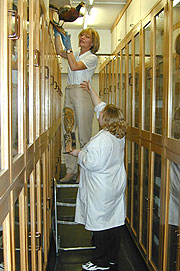 Staff working in the stores
The Museum is seeking to appoint a Research Fellow.
Museum Research Fellowship
Museum Research Fellowship - further details and how to apply
Staff at the Museum always welcome keen volunteers to work in the collections or to help out at one of the family events. As a volunteer you will receive support, training and a unique insight into the work of the Museum. To find out more, contact the Museum or browse the list of volunteer opportunities that are currently available.
Enquiries regarding volunteer opportunities should be sent to: volunteers@oum.ox.ac.uk