Life Collections: bee hive - bees in the building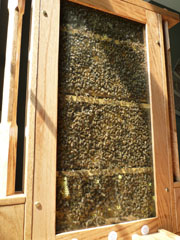 A new bee hive has been installed in the Museum at the top of the south stairs. They are European Honey Bees - Apis mellifera.
The queen bee is about half as long again as the other bees, and has been marked with a green spot on her back to help people identify her in the hive. There is an attendant ring of bees that tend her constantly.
The hive was hand-built especially for the museum. The tube leading to the outside world was purpose-fitted with a perspex lid so that the bees can be seen coming and going. Returning bees have large orange pollen masses on their back legs. You can see these bees storing the pollen once inside the hive. The pollen is to feed the larvae.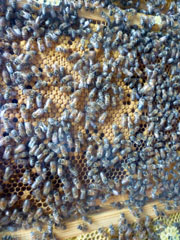 Eventually the hive will have speakers so that people can hear the bees at work in the hive. The area directly outside the windows is being developed into a mini rooftop garden with large barrel planters containing some of the bees' favourite flowers such as thyme and lavender.
Here you can see the bees feeding on honey.
'Bees at lunch' - video
Enquiries regarding the collections should be sent to: life@oum.ox.ac.uk