Media information
For media enquiries please contact communications@oum.ox.ac.uk
These images of the Museum are provided for use by the media.
Please use this credit: "Image courtesy of Oxford University Museum of Natural History".
The Museum
Oxford Dodo display
Tyrannosaurus rex
Press releases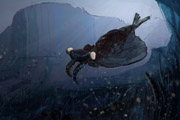 Major fossil study sheds new light on emergence of early animal life 540 million years ago
21 May 2018
All the major groups of animals appear in the fossil record for the first time around 540-500 million years ago – an event known as the Cambrian Explosion – but new research from the University of Oxford in collaboration with the University of Lausanne suggests that for most animals this 'explosion' was in fact a more gradual process.
Full press release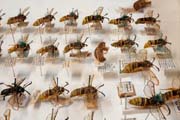 Museum of Natural History's HOPE for the Future wins Heritage Lottery Fund support
27 March 2018
The Museum has received initial support from the Heritage Lottery Fund for its HOPE for the Future project which aims to re-house and safeguard the nationally-significant British insect collections and restore an important Pre-Raphaelite-designed space, the Museum's Westwood Room, to its original 1860 condition.
Full press release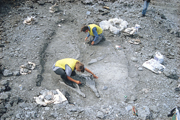 Museum's plans for fossil sea reptile display receive generous grant boost
28 February 2018
Visitors to the Oxford University Museum of Natural History are set to enjoy a new display of large Jurassic sea reptiles called plesiosaurs thanks to a £35,000 grant from funding body WREN.
Full press release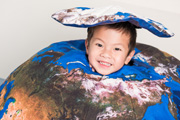 Operation Earth: new family science show tackles some of the biggest questions facing our planet
8 February 2018
The Museum of Natural History is set to inspire families and children in the science of the environment with a new free family science show.
Full press release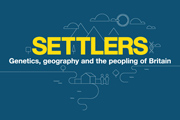 A 12,000-year story - revealing the history of settlers in Britain from the end of the Ice Age to the present day
24 January 2018
A new exhibition at the Museum of Natural History, Settlers, asks where we came from, and presents surprising answers through archaeological evidence, genetic analysis, and interactive data.
Full press release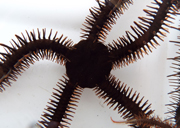 First evidence that brittle stars may 'see' with their skin
29 January 2018
Brittle stars living in vibrant coral reefs found to use thousands of light sensors to navigate their way through their complex environments.
Full press release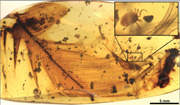 Dinosaur parasites trapped in 100 million-year-old amber tell blood-sucking story
12 December 2017
Amber containing tick grasping a dinosaur feather is first direct fossil evidence of ticks parasitising dinosaurs.
Full press release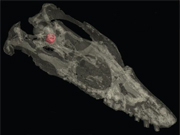 Inner ears of extinct sea monsters mirror those of today's animals
7 December 2017
Extinct reptile inner ears found to closely resemble those of some living aquatic animals, including crocodiles, sea turtles and whales.
Full press release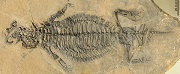 Rare, exceptionally-preserved fossil reveals lifestyle of ancient armour-plated reptile
30 June 2017
Complete fossil of Eusaurosphargis dalsassoi reveals a 241-million-year-old creature's unexpected form for the first time.
Full press release
Museum of Natural History and Oxford Neuroscience win Public Engagement Award for 'Brain Diaries'
28 June 2017
The Museum of Natural History and Oxford Neuroscience have won a Vice-Chancellor's Public Engagement with Research award at the University of Oxford for their Brain Diaries exhibition and public event programme.
Full press release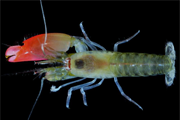 Prog rock giants Pink Floyd honoured in naming of newly-discovered – and, yes, bright pink – pistol shrimp
12 April 2017
A strikingly bright pink-clawed species of pistol shrimp, discovered on the Pacific coast of Panama, has been given the ultimate rock and roll name in recognition of the discoverers' favourite rock band – Pink Floyd.
Full press release
The secret life of your brain is revealed in new exhibition at the Museum of Natural History
13 February 2017
The brain is a marvel of evolution – and a new exhibition at the Museum of Natural History, Brain Diaries, unlocks the mysteries of the brain's development at each stage of life, from before birth until old age.
Full press release
Museum director Professor Paul Smith receives prestigious Polar Medal for contribution to Arctic science
23 January 2017
Professor Paul Smith, director of Oxford University Museum of Natural History, has been awarded the prestigious Polar Medal by Her Majesty the Queen, in recognition of his 'outstanding achievement' in the field of Arctic research.
Full press release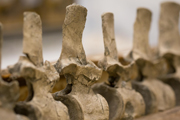 Rare Jurassic sea reptiles set for public display thanks to £90k DCMS/Wolfson funding
17 January 2017
The Museum of Natural History is to create a new display showing the UK's exceptional fossil heritage in the form of two of the museum's most important plesiosaurs. One of these, nicknamed Eve, is the rare long-necked plesiosaur which was discovered in a quarry in Cambridgeshire in 2015.
Full press release
Artists respond to fragile and beautiful Arctic landscape in Museum's Oxfordshire Artweeks show
8 November 2016
An exhibition of Arctic-inspired artwork opens at the Oxford University Museum of Natural History this Friday 11 November as part of the Oxfordshire Artweeks Christmas programme. Presenting work from nine artists based in the county, the exhibition captures a variety of responses to an increasingly threatened environment.
Full press release
Dinosaur seeks new home…
Could you look after the Museum of Natural History's Utahraptor?
20 July 2016
A four metre-long model of a Utahraptor is ending its time in the Oxford University Museum of Natural History collections and is seeking a new home. Potential dinosaur owners please step forward…
The Museum is looking for a host with an indoor public space that could house this striking Cretaceous creature – perhaps a school, community centre, library, or other public venue. The model will be donated free of charge to the organisation which makes the best case for the Utahraptor's continued public display in their venue.
Full press release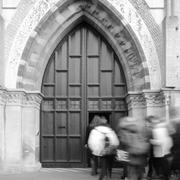 Statement on Inclusion
July 2016
In response to reports of racist rhetoric and abuse around the country following the result of the EU Referendum, UK museums have pledged to continue to provide a safe, inclusive and egalitarian space for all members of the communities they serve. Oxford's museums, libraries and gardens are trusted and social spaces: warm and welcoming to people of all ages and backgrounds and to visitors from all over the world.
The objects in museum collections, interpreted by skilled staff and volunteers from all walks of life, help people make sense of an increasingly confusing world, providing joy and inspiration as well as a platform for debate.
Full press release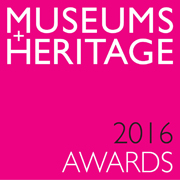 Museum of Natural History named 'Best of the Best' at Museums and Heritage Awards for Excellence
19 May 2016
Oxford University Museum of Natural History has been named the Best of the Best in the UK at the prestigious Museums + Heritage Awards for Excellence 2016 yesterday (18 May). The top accolade followed the Museum's win earlier in the evening in the Project on a Limited Budget category for its Dodo Roadshow project.
The Dodo Roadshow was a tip-to-tip trip across Britain in June 2015 with one of natural history's most iconic specimens, the Oxford Dodo. In a celebration of museums and collections across the country, the Dodo and its escorts visited 24 museums and galleries – from Land's End to John O'Groats – in just eight days and on an extremely small budget.
Full press release
Large-scale photographic exhibition reveals hidden beauty of insects at Oxford University Museum of Natural History
7 April 2016
Microsculpture – The Insect Portraiture of Levon Biss
27 May – 29 January 2017
The beautiful, surprising, and often outright bizzare microscopic form of insects is presented in breathtaking clarity in a new exhibition by British photographer Levon Biss at the Museum of Natural History in Oxford. Created as part of the Museum's Visions of Nature year in 2016, Microsculpture shows specimens from the collection like never before, in large-format and exquisitly-lit detail.
On show in the main court, the largest of Microsculpture's photographic prints measure up to three metres across and surround the visitor. Seen alongside the tiny insect specimens themselves, this huge transformation of scale offers a unique viewing experience.
Full press release
Kurt Jackson exhibition showcases new work celebrating the importance and diversity of bees
4 February 2016
Bees (and the odd wasp) in my bonnet
18 March – 29 September 2016
A unique presentation of contemporary art and science opens at the Oxford University Museum of Natural History this spring with Kurt Jackson's brand new show Bees (and the odd wasp) in my bonnet. Featuring work never previously displayed, the exhibition explores and celebrates the diversity, role, importance and current plight of bees and other pollinators.
Acknowledging the dangers faced by British bees, Kurt Jackson has spent the past few years exploring the world of pollinators, producing a collection of pieces that are also informed by his grounding in the sciences and his experience as a beekeeper in Cornwall.
Full press release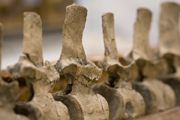 Jurassic sea monster found in quarry is donated to Oxford University Museum of Natural History
21 January 2016
A rare 165 million-year-old plesiosaur skeleton has made its way to the Oxford University Museum of Natural History after being discovered in a quarry near Peterborough. The 5.5 metre long marine reptile, nicknamed 'Eve', was found by palaeontologists from the Oxford Clay Working Group in November 2014. It is now being studied at the Museum and may prove to be a previously unknown species of plesiosaur.
Plesiosaurs were long-necked sea creatures that lived during the time of the dinosaurs. They died out 66 million years ago.
The specimen, discovered at a site owned by building product manufacturer Forterra, was first spotted by Oxford Clay Working Group member Carl Harrington who noticed a tiny fragment of bone sticking out of the clay. Over the course of four days, Carl and eight others dug up more than 600 pieces of fossilised bone. Carl then spent over 400 hours cleaning and repairing the specimen.
Full press release
'Father of geology' William Smith is celebrated in bicentenary special exhibition
5 October 2015
Handwritten in Stone: How William Smith and his maps changed geology
9 October 2015 – 31 January 2016
Two hundred years ago William Smith published the first geological map of England and Wales, a beautiful and ground-breaking piece of work which remains important to this day. Celebrating the bicentenary of this publication, Handwritten in Stone presents an intimate portrait of the extraordinary life and work of the 'father of geology'.
The exhibition draws on the largest archive of Smith material in the world, held at the Oxford University Museum of Natural History. Alongside the famous 1815 map itself, Smith's personal papers, drawings, publications, maps and geological sections will be publicly displayed for the first time, together with fossil material from the Museum's collections. The displays also include the oldest geological map in the world, Smith's 1799 map of Bath.
Full press release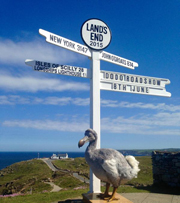 Oxford Dodo makes epic journey from Land's End to John O'Groats in celebration of museums and galleries
16 June 2015
A unique and ambitious tour celebrating museums and galleries across the country came to a close on Monday 15 June when the Oxford University Museum of Natural History's famous Dodo completed its journey from Land's End to John O'Groats, visiting 22 venues along the way.
At each stop, the Dodo met with a star object from that museum's collection and learnt more about it in an 'interview' that was published on the Museum of Natural History blog, More than a Dodo. Along the way the Dodo met other extinct creatures, artworks, landmarks of industrial engineering, and even some poets (not to mention a giant papier-mâché albatross).
Full press release
'Sensational' exhibition at Oxford's Museum of Natural History showcases cutting-edge research
6 May 2015
Could oxygen sensing revolutionise human medical treatment? How does light affect our behaviour? And how do bacteria sense their micro worlds? These are some of the questions addressed by Biosense, a new exhibition opening this week at the Oxford University Museum of Natural History. Biosense celebrates the University's leading science research by combining scientific stories with incredible images and previously unseen museum specimens. Full press release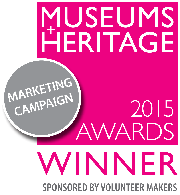 Museum of Natural History's city centre project scoops national Museums + Heritage award
30 April 2015
The Oxford University Museum of Natural History's Goes to Town exhibition and marketing campaign picked up the winning trophy at last night's prestigious Museums + Heritage Awards. Up against stiff competition from the National Maritime Museum, Imperial War Museum, Natural History Museum, and others, the judges selected Goes to Town as the winner in the Marketing Campaign category. Goes to Town saw the installation of museum specimens in locations across Oxford city centre. This created a high profile 'treasure hunt' trail and provided the narrative and visual basis for reopening promotion following the museum's closure for a major roof project during 2013/4. Full press release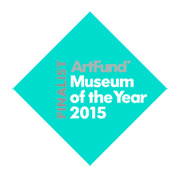 Museum of the Year Finalist
25 April 2015
We are delighted to announce that the Museum has been selected as a Finalist in the Art Fund Prize for Museum of the Year 2015. Last year was an important one as we reopened with a new public programme following 14 months of closure while the Museum roof was restored. Full press release
Oxford Museums provide free Wi-Fi
24 March 2015
A brand new, completely free, Wi-Fi service is now available throughout the Oxford University Museums thanks to Super Connected Oxford. Visitors to the Ashmolean Museum, Museum of Natural History, Museum of the History of Science and Pitt Rivers Museum will now be able to access free public Wi-Fi when visiting the museum, via a managed service provided by WiFi SPARK Ltd. As well as being a convenient service to the more than 2 million visitors who come to the museums each year, Wi-Fi enables the museums to enhance their offer, providing additional digital content, learning resources and information about the collections.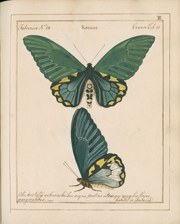 Oxford University Museum of Natural History treasure moves online in first citizen science project
6 March 2015
One of the greatest archival treasures of the Oxford University Museum of Natural History is the subject of the Museum's first citizen science website – Jones' Icones Online. Featuring the beautiful 18th-century paintings by William Jones, the website will make his scientifically and historically important work available to all for the first time.
The six-volume manuscript, now popularly known as Jones' Icones, contains remarkably accurate images of more than 750 moth and butterfly species. In addition to making these beautiful images available online for the first time, the site will allow people around the world to help identify all the species painted in the work. Full press release
TCV launches Natural Talent UK traineeships across the UK
7 October 2014
Having secured funding from the Esmée Fairbairn Foundation, national charity The Conservation Volunteers (TCV) will be launching their UK-wide Natural Talent programme this Friday 10th October where they will deliver 12 new Natural Talent traineeships throughout the UK over the next two years. Oxford Traineeship
The Natural Talent UK traineeship programme aims to increase expertise across the whole of the UK to protect our less well known species and create awareness of the habitats that support them. TCV's Natural Talent UK scheme follows on from the very successful Natural Talent Apprenticeship programme that has delivered 44 apprenticeships since 2006 and was funded by the Heritage Lottery Fund. Full press release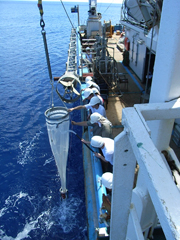 Planktonic foraminifera being hauled up 1.5km in the South West Indian Ocean during the GLOW Cruise aboard RV Pelagia.
A lesson from the past: Greenhouse gas release caused 40°C ocean
11 September 2014
A rapid rise in greenhouse gases around 56 million years ago resulted in sea surface temperatures as high as 40°C with significant impacts on marine life, according to new research published in the September edition of the scientific journal Geology.
The period, known as the Palaeocene-Eocene Thermal Maximum (PETM), lasted for around 170,000 years and saw the release of roughly the same volume of CO2 as expected from modern fossil fuel consumption.
The research, conducted by Dr Tracy Aze, a research fellow at the Oxford University Museum of Natural History, could have implications for the understanding of climate change in the future.
"The amount of CO2 that is predicted to be released from the Industrial Revolution to around 100 years from now is roughly equivalent to what happened in the PETM," says Dr Aze. "But the big difference is the rate of release: today we are releasing greenhouse gases at a far faster rate than 56 million years ago." Full press release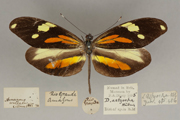 Wallace specimens unearthed: a work experience student has unearthed priceless Alfred Russel Wallace specimens. A 17-year-old student who spent just four weeks at the Oxford University Museum of Natural History has rediscovered hundreds of priceless specimens collected by Victorian natural historian Alfred Russel Wallace (1823-1913). At the Museum, Athena was tasked with searching 3,340 drawers of butterflies looking for specimens collected by Wallace, the famous naturalist who independently conceived a theory of evolution by natural selection at the same time as Charles Darwin. Her project was part of the Museum's programme of activities surrounding the 2013 centenary of Wallace's death in November 1913. Read more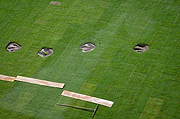 Dinosaur footprints return: casts of footprints laid down by a Megalosaurus dinosaur in Oxfordshire over 160 million years ago have been reinstalled outside the Museum of Natural History ahead of the Museum's reopening next year. But rather than put the prints back in the same position as before, Museum staff have taken the opportunity to update the trackways by using current scientific ideas about the way the dinosaur moved. The prints are casts taken from a fossilised trackway discovered at Ardley Quarry near Bicester in 1997. It is thought that they were made by the large, three-toed carnivore Megalosaurus bucklandii, which roamed the lagoons of Jurassic Oxfordshire some 166-168 million years ago. Read more