Collections and research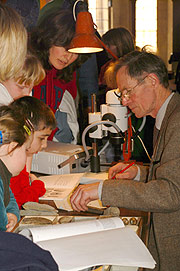 A fossil identification workshop
The Museum is an important centre for research and teaching, and is organised into four collections: entomology, geology, mineralogy and petrology, and zoology. It also houses several research libraries, and is home to an environmental archaeology unit.
Search collections online: The Museum aims to make its collections as accessible as possible. To search the Museum's online databases select the subject link from the menu on the left, and then select databases.
Scientific enquiries: every year hundreds of rocks, fossils and other finds are identified by our team of curators and scientists. If you have found anything of interest, bring it along on your next visit to the Museum.
Important note: the Museum does not condone any illegal action, including the collection of birds' eggs, trapping live animals or unauthorised work in quarries.