Faustino Corsi's Catalogo ragionato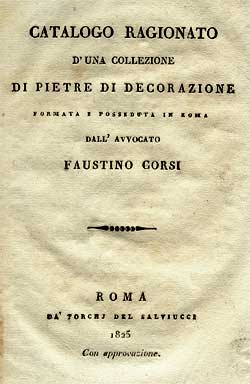 Front cover of Corsi's Catalogo ragionato
Published in 1825, Faustino Corsi's Catalogo ragionato d'una collezione di pietre di decorazione is an important resource for anyone studying the scientific and cultural history of polished stone. It contains descriptions and geological classifications for the first 900 stones in his collection. Corsi also correlates names used by the scalpellini (the marble cutters of contemporary Rome) with those used by ancient and contemporary authors, and he cites exceptional examples of stones to be seen in Rome. The Supplemento, printed in 1827, records details of the last 100 samples.
The Catalogo ragionato and Supplemento have been translated into English by Lisa Cooke, and merged into a single document at the points indicated by Corsi. His spellings for stone names and quarry locations have been retained throughout the English translation.
The accompanying commentary expands and clarifies some of Corsi's references, and gives more information about the people, places and objects that he refers to in his text.
There are a number of factual and typographic mistakes in the printed editions of the Catalogo ragionato. See the Corsi project page to find out why some of these errors were made. In this translation, you can click buttons for each stone to see corrections and modern information, open an image of the stone, or see a facsimile of the original Italian text.