Find out about other collections of decorative rocks in the Oxford University Museum of Natural History
As well as the Corsi Collection, the Museum has around 1,000 other examples of polished and unpolished decorative rock from localities worldwide. Some are from historic old collections, others are modern stones. In addition, a fine collection of British and Irish decorative stones forms part of the Museum building.
1. The stone columns around the Museum Court
The Museum building was completed in 1860, and every detail of its neo-Gothic architecture was intended to inspire curiosity and delight in the natural world. The 127 polished stone columns along the walls dividing the galleries from the Museum Court are no exception. Each one is from a different British or Irish locality, labelled with its provenance. They were selected by John Phillips, Professor of Geology and the first Curator of the University Museum. In January 1859 he wrote:
'The British marbles are still only partially known. Including in the term marbles something more than the "marmora" of our early mineralogists, and including granitic rocks, serpentines &c., we desired to obtain specimens of all the more important kinds - important on grounds of scientific interest, as well as for their commercial value and architectural utility. Here and there our efforts failed; we could not "for love or money" get the stone we wanted; but on the whole our success is much beyond any previous example in this, and I believe, in any country.' i
The stone pillars can be viewed during the Museum's normal opening hours.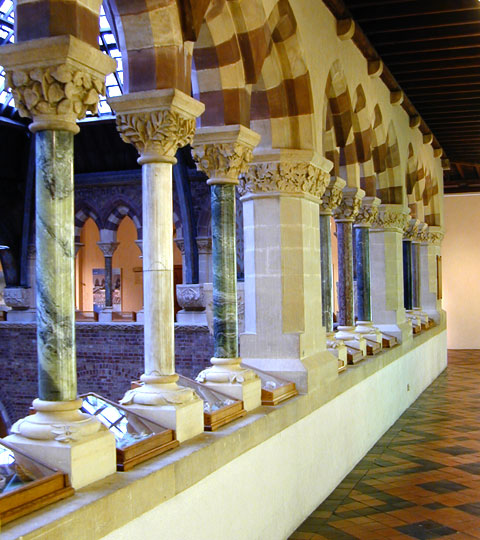 2. The William Jervis collection
Our Italian collections are boosted by more than 200 trimmed, unpolished rock samples supplied to the Museum by William (Guglielmo) Jervis around 1887. His labels give precise descriptions of the specimens and their provenances. Many are from named marble quarries of the Apuan Alps.
Jervis was curator of the Museum of Italian Industry in Turin, a member of the SocietàGeologica Italiana and of the Geological Society of London. His major work I Tesori Sotterranei dell'Italia, published in 4 parts between 1873 and 1889, records in considerable detail the locations of mineral deposits, and the economic geology of Italy. Part 4 is dedicated to ornamental and building stones. Jervis also wrote The mineral resources of Central Italy, a guide to accompany the International Exhibition of 1862, which includes a detailed account of contemporary marbles and marble quarries. The pyroxene mineral jervisite, first described in 1982, is named after him.
In a letter to Professor Prestwich which accompanied the specimens, Jervis mentions that he had given similar collections to other museumsii. We would be interested to know which other museums have his collections.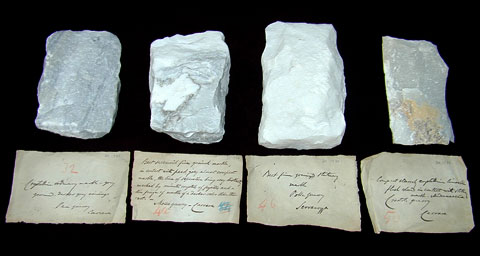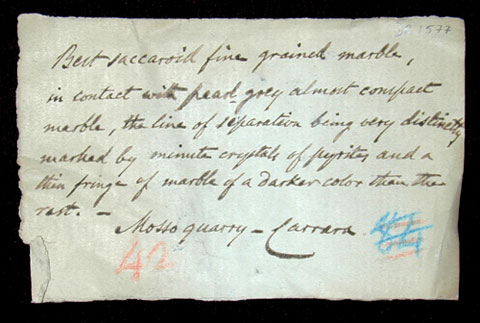 3. Marbles from the Marmor Marble Company
Nearly 100 untrimmed specimens from classic Greek marble localities were presented to the Museum by the Marmor Marble Company (18 Finsbury Square, London) in 1899. They include stones from Mt Pentelikon, Paros, Naxos, Skyros, Tinos, the Mani peninsular (rosso antico), Carystos (cipollino), and Laconia. Many of the ancient quarries of these marbles had been re-discovered by London marble merchant William Brindley and others towards the end of the 19th century. A further seven polished specimens cut to the same dimensions as the Corsi specimens were presented by the company in 1908.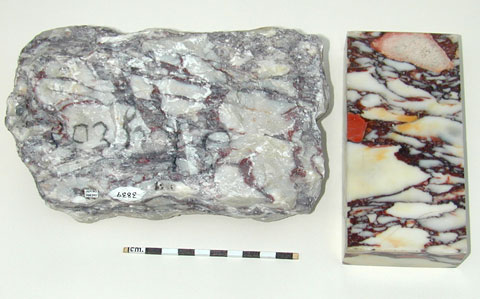 4. Other specimens cut to match the Corsi specimens
A number of other sets of marbles were obtained by the Museum during the early 20th century, cut to the same dimensions as the Corsi specimens. They include:
5 granites from Cornwall, England (Messrs J. Freeman, Sons and Co. Ltd)
6 Devonian limestones from South Devon, England (A. W. Blackler and Son)
1 limestone (Petworth marble) from Sussex, England (Arthur Lee and Bros, Ltd)
5 Carboniferous limestones from Derbyshire, England (Hopton Wood Stone Firm Ltd)
5 alabasters and Carboniferous limestones from Derbyshire, England (R. G. Lomas)
1 Carboniferous limestone (Frosterly marble) from Co. Durham, England (Harehope Mining and Quarrying Co. Ltd)
13 limestones and ophicalcites from Co. Cork, Co. Kilkenny and Co. Galway, Ireland (Irish Marble Co.)
13 limestones and marbles from India (The Geological Survey of India)
4 marbles and limestones from Georgia, USA (Georgia Marble Co.)
24 limestones, marbles and other ornamental stones from the USA (U.S. National Museum (Smithsonian Institution), Dept. of Geology)
5. Marbles from old collections
Old geological collections commonly include small polished tablets of stone, often from the ruins of Rome and brought back by travellers on the 'Grand Tour'. The early 19th century collections of geologists Charles Giles Bridle Daubeny and John MacCulloch contributed many specimens to our decorative rock collections. During the 1960s the distinguished crystallographer Dr Mary Porter, who had re-organised and studied the Corsi collection during the first decade of the 20th century, returned to her early interest in marbles. She worked through many of the old decorative rock samples labelling them with name and provenance.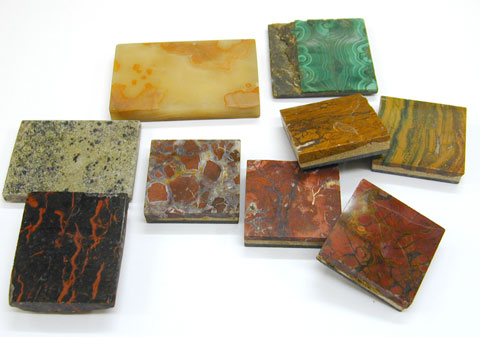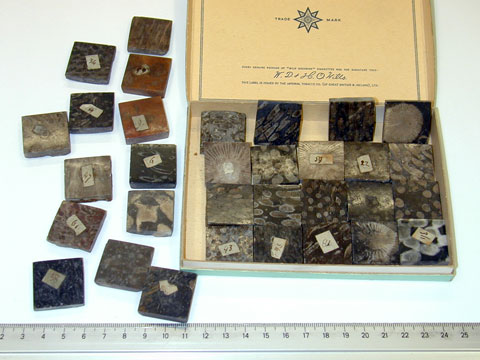 6. Recently acquired specimens of decorative rocks
The Museum is still building its collection of decorative stones and in recent years has acquired samples from Finland, Spain, Portugal, Oman, South Africa, USA, Brazil and elsewhere. A number were obtained to illustrate Monica T. Price's book Decorative stone, the complete sourcebookiii.
i Letter to H. Acland printed in J. Ruskin & H. Acland (1893), The Oxford Museum George Allen, London, 92.
ii Ms; 27 Jun 1877 letter from W. Jervis to J. Prestwich. OUMNH Arkell Geol. Archive, Misc. Geology, Box 1, 1887/1.
iii Price, M.T. (2007), Decorative stone, the complete sourcebook. Thames & Hudson, London.