Visiting us
Opening hours: 10am - 5pm every day, admission free.
Café: the new Museum café is situated on the upper gallery over-looking the dinosaurs. There are child-friendly options available and families are always welcome. Please note that at present the café only takes cash.
Visiting as a group: it is essential for all groups planning to visit the Museum to make a booking at least 2 days before their visit. Please contact education@oum.ox.ac.uk or 01865 282451. Language and international groups can book a joint visit to the Museum of Natural History and the Pitt Rivers Museum. Please read this document before contacting us to book your visit. You may also wish to download this activity trail.
There is no public parking at the Museum, although disabled facilities are available to registered users. With the installation of a lift to the upper gallery, there is full wheelchair access to all public areas of the building. Only registered guide dogs are allowed in the museum.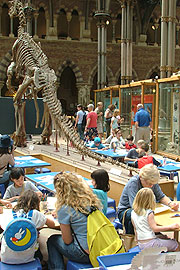 All of the Oxford University Museums offer family friendly activities. To find out about current events download:
The Oxford University Museums family friendly leaflet

Enquiries regarding access to the Museum should be sent to: info@oum.ox.ac.uk
Oxford University Museum of Natural History,
Parks Road, Oxford,
OX1 3PW
Telephone: + 44 1865 272 950
Facsimile: + 44 1865 272 970