Visiting us
Opening hours: 10am - 5pm every day, admission free.
For an audio-description introducing the museum, please listen here.
Café: the new Museum café is situated on the upper gallery over-looking the dinosaurs. There are child-friendly options available and families are always welcome.
Access: there is no public parking at the Museum, although disabled facilities are available to registered users. There is a lift to the upper gallery for wheelchair access. Registered guide dogs are allowed in the museum. Download floorplan.
The museum has developed a set of resources for families with children on the autistic spectrum but potentially of use to other visitors with young children or additional needs. Visitors with support needs
Visiting as a group: it is essential for all groups planning to visit the Museum to make a booking. Please contact our bookings service on 01865 282451 or education@oum.ox.ac.uk. Bookings for international groups and language schools can only be made at these times:
Mon-Fri: 14:00 or 15:00
Sun: 10:00 or 11:00
See our booking information for details.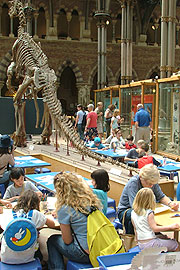 Travel to the Museum: The Museum is about 15 minutes walk from Oxford city centre and about 20 minutes from Oxford station. There is some parking in the side streets around the Museum, and there is a multi-storey car park in the town centre. There are also five Park and Ride car parks (situated on the A40 at Headington; Red Bridge at the bottom of the Abingdon Road, near Kennington; Pear Tree Roundabout, Woodstock Road; Water Eaton, Banbury Road, Kidlington and Seacourt at Botley). The coach park is on Oxpens Road. Locate the Museum on a map of Oxford
All of the Oxford University Museums offer family friendly activities. To find out about current events download:
The Oxford University Museums family friendly leaflet

Enquiries regarding access to the Museum should be sent to: info@oum.ox.ac.uk
Telephone: + 44 1865 272 950
Oxford University Museum of Natural History,
Parks Road,
Oxford, OX1 3PW
University Access Guide