Visiting us
Opening hours: 10am - 5pm every day, admission free.
Easter closure: the Museum will be closed Sunday 20th April..
The Museum was awarded the Guardian Family Friendly Museum award in 2005 and there is a full programme of family activities running throughout the year; upcoming events are listed in What's on and details of the Museum shop can also be found on this website.
Café - the new Museum café is situated on the upper gallery over-looking the dinosaurs. There are child-friendly options available and families are always welcome.
There is no public parking at the Museum, although disabled facilities are available to registered users. With the installation of a lift to the upper gallery, there is full wheelchair access to all public areas of the building. Only registered guide dogs are allowed in the museum.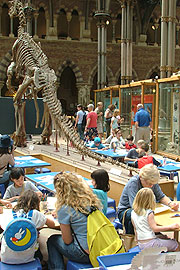 All of the Oxford University Museums offer family friendly activities. To find out about current events download:
The Oxford University Museums family friendly leaflet (PDF)

Enquiries regarding access to the Museum should be sent to: info@oum.ox.ac.uk
Oxford University Museum of Natural History,
Parks Road, Oxford,
OX1 3PW
Telephone: + 44 1865 272 950
Facsimile: + 44 1865 272 970
Locate the Museum on a map of Oxford (PDF, 13kB)
To read this file you will need to download Adobe Reader