The Museum shop
The Museum Shop offers a wide range of products including a unique range of fossils and minerals, Museum publications, children's toys, jewellery, postcards and bespoke Museum products.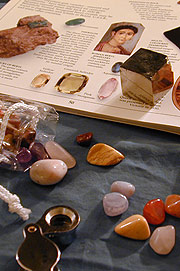 Semi-precious gemstone pebbles on sale
The shop provides the opportunity to buy the ideal gift or memento from your visit, with 'pocket money' items through to specialist interest objects. We can also provide Museum Packs for school groups or " party packs " for individuals. For further information please contact us via the email address below.
For all University members there is a 10% discount on purchases over £5.
The Museum shop is open every day from 10am to 5pm (except for short breaks at Christmas and Easter).
Enquiries regarding the shop should be sent to: shop@oum.ox.ac.uk