What's on
Our full programme of events is listed below. All events are free unless otherwise stated. Download leaflet
Special Events - Regular Events - Exhibitions
Special Events
Museum Masterpiece
Rummage around for bits 'n' bobs to create your own magnificient artwork.
Families, drop-in
Tuesday 26 and Wednesday 27 May, 1-4pm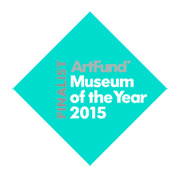 Museum of the Year Photography Competition
To celebrate our nomination, take part in the Museum of the Year Photography Competition by tagging your favourite photos of the Museum with #motyphoto on Instagram or Twitter. You can also upload your photos to artfund.org/prize. The public can vote online for their favourite between 8-22 June 2015, with the winner announced 25 June. The winning photograph will be published in the Art Fund's Art Quarterly magazine and the winner will receive a photography holiday in Berlin for two plus a £500 photography equipment voucher.
Photos must be submitted by 31 May 2015.

Biosense spotlight
Dr Stuart Peirson explains photoreceptors and circadian rhythms and how light regulates physiology and behaviour. This talk is part of the Biosense exhibition programme and is suitable for adults.
Saturday 6 June, 2pm
Oxford Art Prize
Artists will be popping up on the lawn. Watch them create their vision of the Museum. www.oxfordartprize.co.uk
Suitable for all, drop-in
Saturday 6 and Sunday 7 June, 11am-4pm
Bugs and Beyond with George McGavin
Join TV adventurer and naturalist George McGavin to discover his favourite bugs and other wildlife, and hear exciting stories of jungle journeys. In partnership with BBOWT. Child £6 / Adult £8.
Information and booking
Sunday 7 June, 2-3.30pm

Wild Fair: Festival of Nature
Celebrate Oxfordshire's biodiversity with crafts, conservationists and family-friendly talks. In partnership with BBOWT.
www.oxfordfestivalofnature
Suitable for ages 8+
Saturday 13 June, 10am-4pm
Dinosaur Stomp
Dig for fossils, touch some real dino bones and stomp just like a dinosaur!
Under 5s, drop-in
Wednesday 24 June, 10.30am-12.30pm and 2-4pm
Evolution of Mammals
How is an aardvark related to an elephant? Recent genomic research reveals surprises in the evolutionary relationships of mammal groups. Learn more using Museum collections and our new tactile Sensing Evolution displays. Day school, Adults, £65
Information and booking
Saturday 27 June, 10am-5pm
Alice's Day
Join us to celebrate 150 years of Alice's Adventures in Wonderland. Explore the museum that inspired the book, with performances and Alice-themed crafts.
Families, drop-in
Saturday 4 July

70 years of nature: the New Naturalist 4th Symposium
Guest speakers include John Altringham, Robert Cameron, David Goode, Brian Moss, Clive Stace and Jeremy Thomas.
Download poster
To book tickets: tbernhard@btinternet.com // 01794 830937
Saturday 11 July

Regular Events
Spotlight Specimens
An informal specimen show-and-tell under the T. Rex. Ask questions and chat with our curators.
All ages
Monday - Thursday at 2.30pm
Café Scientifique
A chance to listen to scientists talk about their current work and its implications for society over a glass of wine.
Café Scientifique
Suitable for adults
7.30 - 9pm on the second Tuesday of every month
Science Saturdays
Come and investigate real natural history specimens with university scientists.
Families, recommended for 8+, drop in
Every Saturday from 2 May – 6 June, 2pm – 4pm
Architecture Tours
Take a free volunteer-led tour to learn about the Museum's Grade 1 listed Neo-Gothic building.
Adults
Every Friday, 2.30pm and 3.15pm
Family Friendly Sundays
Try a trail, borrow a backpack, make something exciting to take home or have a rummage in our special sorting boxes.
Families, drop in.
Every Sunday, 2pm – 4pm
Exhibitions
Sensing Evolution
Our touchable tables are back and better than ever. Now themed around evolution, you can explore how mammals and reptiles have adapted to live in a huge variety of environments.
New permanent exhibition in main court from 8 May
New World Vultures
Painted by Nigel Hughes after fieldwork in North and South America, these impressive birds range from the largest - the Andean Condor - to the smallest - the American Black Vulture.
6 May - 30 July, in the café gallery
Biosense
All living organisms need to sense changes in their environments. Current research is exploring the mechanisms involved, and how we might benefit from this understanding.
8 May - 24 August, in the main court
'Presenting…'is a small and changing display of treasures from the Museum's collection.
All of the Oxford University Museums offer family friendly activities. To find out about current events download: The Oxford University Museums family friendly leaflet (PDF)

Enquiries regarding events at the Museum should be sent to: info@oum.ox.ac.uk