The Dodo Roadshow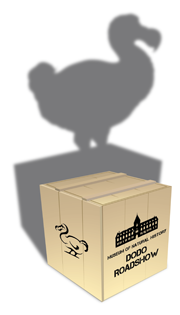 Oxford Dodo travelled from Land's End to John O'Groats in major celebration of UK museums and galleries
To mark the Oxford University Museum of Natural History's nomination in the 2015 Art Fund Prize for Museum of the Year, the famous Oxford Dodo embarked on an ambitious tour: beginning at Land's End on 8 June, the Dodo travelled the full length of Britain, all the way to John O'Groats, in just one week, visiting museums and galleries along the way. #ILoveMuseums
In a bid to celebrate the rich diversity of museum collections in the UK, the Dodo – a star specimen in the Oxford collections – met with star objects from every museum and gallery on the tour. At each stop the Dodo 'interviewed' fellow star objects for a series of Q&A articles that were published on the Museum's blog.
For the trip, staff took the Dodo model from the Museum's displays; a cast of the precious head, which is the only remaining soft tissue material of a Dodo in the world; and real foot bones from the same animal, representing some of the few organic pieces of Dodo remains.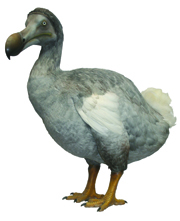 At each stop, the model was photographed alongside the host venue's star object and visitors were able to take part in a joint 'show and tell' with staff from both museums.
"We wanted to do something special to celebrate our nomination for the Art Fund Prize for Museum of the Year 2015," said Museum of Natural History director, Professor Paul Smith. "Getting out on the road to visit museums and galleries far and wide seemed like a great way to talk about the huge breadth of collections that we have in the UK, both in natural history and well beyond. The Dodo Roadshow is a chance for some people to meet the iconic Oxford Dodo, and for the Dodo – and us – to meet equally important objects in other museum collections."
Follow our journey, and see the Dodo meeting other star objects: