Learning more ... about the Museum
The Museum was built as a 'cathedral to science' to hold the many hundreds of natural history specimens the University had accrued over centuries. Opened in 1860, the stunning neo-Gothic building has had an illustrious history.
The following articles introduce you to the most famous features of the Museum, its architecture, history, and exhibits.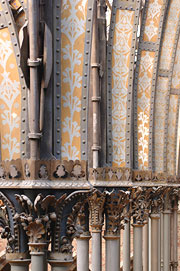 Displays of the main court
Introducing the displays of the central aisle
The dinosaurs in the Museum
The Megalosaurus and others
Alice and the Museum
The famous connection with Lewis Carroll
The Oxford dodo
The famous Oxford specimen
The Museum swifts
The famous swifts of the tower
The Great Debate
The famous evolutionary debate
The Pre-Raphaelites and the Oxford Museum
Dr John Holmes tells the story of the Pre-Raphaelites and the Museum
Architecture of the Museum
The design and beauty of the building
Statues in the court
Great scientists depicted in stone
Stonework of the Museum
Columns, capitals and corbels around the gallery
If you cannot find what you are looking for here, try looking for it in one of the collections.
Learning more articles are free to all users for educational, non-profit purposes.
They are PDF format and are usually 500kB or less in size.
To read these files you will need to download Adobe Reader