Hosting an event: filming
With its spectacular dinosaur displays and the outstanding architecture of the main court, the Museum provides a stunning film location. Over the years the Museum has featured in Inspector Morse, Walking with dinosaurs, The lost world and other television productions.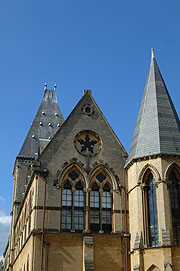 The exterior of the Museum
Film crews may use the facilities of the Museum, and staff are happy to provide support including access to cases, specimens and private rooms. A full list of charges is available on request.
Enquiries regarding filming should be sent to: info@oum.ox.ac.uk