Life Collections: searchable databases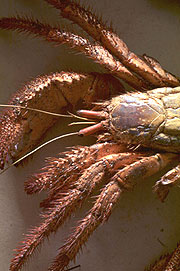 A crab from Darwin's collection
The zoological databases include the bird and mammal specimens, a small collection of Charles Darwin's material, the extinct and endangered species represented in the collections, and the human remains.
Search the osteological collections
The National Zooarchaeology Reference Resource hosts OUMNH osteological collections data. The skeletal collections are not 100% catalogued but the data in the NZRR provides an accurate overview for 4335 specimens.
Search the mammals database
Over 5,000 specimens representing 750 species, including British material
Search the birds database
Over 17,000 bird skins from around the world representing 5,000 species
Search Charles Darwin's collection
Dried crustacea collected on the voyage of The Beagle
Search the extinct and endangered database
Around 2,000 specimens cross-referenced with the IUCN 2000 Red List
Search the human remains database
400 specimens representing the species of the genus Homo
How to use the databases
A guide to searching the databases
The entomological databases provide summary listings of all the entomological collections and archives. There are also databases of type specimens, each one representing a taxonomic order, and the Diptera databases of type material from the Bigot and Verrall-Collin collections.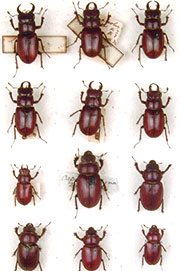 Search collections
A list of entomological collections
Search archives
A list of entomological archives
Search Bigot-Macquart Diptera
The Bigot-Macquart collection of over 2,500 species
Search Verrall-Collin Diptera
The Verrall-Collin collection of approximately 1,000 species
Search Palaearctic Diptera
The Palaearctic Diptera collection of over 5,000 species
Search Pickard-Cambridge Arachnid collection
The named material from the O. Pickard-Cambridge Arachnid collection
Search Embioptera
A small collection of web-spinners
Search Odonata
An important collection of dragonflies and damselflies
Search Plecoptera
A small collection of stoneflies
Search Strepsiptera
Includes the important collection of Sir S. S. Saunders
How to use the databases
A guide to searching the databases
Enquiries regarding the collections should be sent to: life@oum.ox.ac.uk