How to visit the Corsi collection or contact us
The Corsi collection and the Museum's other collections of decorative stone samples are not on public display, but we welcome study and research visits by prior appointment.
No appointment is needed to see the stones that form pillars in the Museum Court. They can be viewed during public opening hours, from 10.00 to 17.00 daily.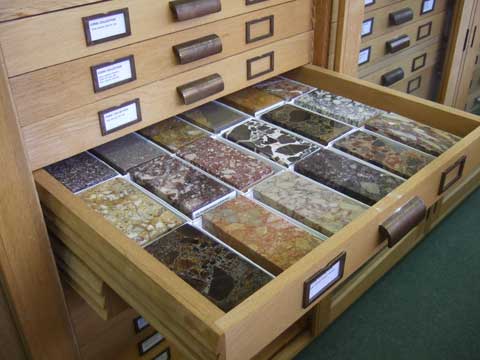 Can you help us?
Can you tell us more about any of the stones in Corsi's collection? If you have specialist knowledge that would help confirm or correct our information, we would be very pleased to hear from you.
We would also like to hear from you if you have found this website useful, or if you have encountered any problems using it.
Contact us:
To make an appointment to visit, to tell us more about the stones, or to tell us about your experience of using this website, please contact:
Monica T. Price
Head of Earth Collections
Oxford University Museum of Natural History
Parks Road
Oxford, OX1 3PW
Tel: 01865 272950
Fax: 01865 272970
e-mail:
earth@oum.ox.ac.uk