Accessibility on the site
The Oxford University Museum of Natural History wants to make its website accessible to as many people as possible.The site has been designed using cascading style sheets to improve accessibility for all.
Navigation
Navigation has been made as simple as possible, with primary navigation across the top of the page, secondary navigation on the left of the screen, and tertiary navigation (where present) as a sub-menu below each left column link.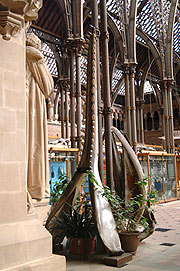 The jaw bone of a sperm whale
PDFs (Portable document files)
We have chosen to produce most of our leaflets and activity sheets as PDFs. To read these files you will need Adobe Acrobat reader. Where possible we have tried to produce this content in another format as well.
Download Adobe Reader
Conditions of Sale: Download Museum Conditions of Sale
Privacy: Privacy Policy
Cookies
In anticipation of new EU Cookies Law, the following is a list of cookies that will be found on this site:
__utma Google Analytics uses this cookie name
__utmb Google Analytics uses this cookie name
__utmc Google Analytics uses this cookie name
__utmz Google Analytics uses this cookie name
The above are only used for tracking statistics and visitor ID remains anonymous.
Accessibility statement

The University of Oxford is committed to providing an accessible web presence that gives members of the public and members of the University community full access to University information, courses and activities offered publicly through the web. All pages should validate as XHTML 1.0 Transitional. The templates use Cascading Style Sheets. These pages meet the checkpoints of the Web Accessibility Initiative's Web Content Accessibility Guidelines (WCAG) 1.0, as specified by the University of Oxford Web Accessibility Policy to Level-AA standards, and most pages on this website conform to the AAA standard.
For accessibility guidelines in the Learning zone, please read its separate statement. If you have any further questions or comments on this site, please contact us.