Dr Sammy De Grave, Head of Research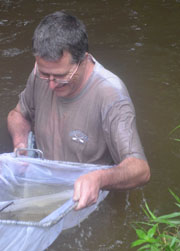 Email: sammy.degrave@oum.ox.ac.uk
Phone: +44 (0)1865 272962
Research summary

My research is concerned with the systematics of caridean shrimps (Crustacea: Decapoda) in the broadest sense, ranging from alpha-level species taxonomy through to family level systematics, with forays into biogeography, faunistics, comparative morphology, ecology and conservation. Field work plays a prominent role, with recent expeditions in many locales in the Caribbean as well as the Indo-Pacific. As a result the OUMNH caridean collections are one of the largest in the world, offering significant scope for comparative morphology work, with SEM being the tool of choice.
Biography

PhD, Taxonomy and systematics of caridean shrimps from Papua New Guinea (University College Cork - National University of Ireland, Cork, 1999)
Selected Publications

De Grave S., N.D. Pentcheff, S.T. Ahyong, T.-Y.Chan, K.A. Crandall, P. C. Dworschak, D.L. Felder, R.M. Feldmann, C.H.J.M. Fransen, L.Y.D. Goulding, R. Lemaitre, M.E.Y. Low, J.W. Martin, P.K.L. Ng, C.E. Schweitzer, S.H. Tan, D. Tshudy & R. Wetzer. 2009. A classification of living and fossil genera of decapod crustaceans. Raffles Bulletin of Zoology, Suppl. 21: 1-109.
De Grave, S. & C.H.J.M. Fransen (2010) (eds.) Contributions to shrimp taxonomy. Zootaxa 2372: 1- 414.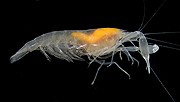 Salmoneus degravei
Anker, 2010
Fransen, C.H.J.M., De Grave, S. & Ng, P.K.L. (eds.) 2010. Studies on Malacostraca: Lipke Bijdeley Holthuis Memorial Volume, Crustaceana Monographs, 14: 1-754.
Bracken, H., S. De Grave, A. Toon, D.L. Felder & K.A. Crandall (2010) Phylogenetic position, systematic status, and divergence time of the Procarididea (Crustacea: Decapoda). Zoologica Scripta 39: 198-212.
De Grave, S.
& L.Y.D. Goulding (2011) Comparative morphology of the carpo-propodal brush in caridean shrimps. Zoologische Anzeiger, 250: 280-301
Li, C.P., S. De Grave, Lei, H.C. T.-Y. Chan & K.H. Chu (2011). Molecular systematics of caridean shrimps based on five nuclear genes: Implications for superfamily classification. Zoologischer Anzeiger, 250: 270-279
De Grave, S., & C.H.J.M. Fransen (2011) Carideorum Catalogus: The recent species of the dendrobranchiate, stenopodidean, procarididean and caridean shrimps (Crustacea, Decapoda). Zoologische Mededelingen, 85: 195-589.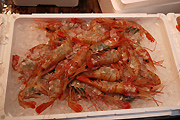 Pandalus
spp., Tsukiji fish market
Ashelby, C.W., T.J. Page, S. De Grave, J.M. Hughes & M.L. Johnson (2012). Regional scale speciation drives multiple invasions of freshwater in Palaemoninae (Decapoda). Zoologica Scripta, 41: 293-306.
Ashelby CW, S De Grave & MJ Johnson (2013). The global invader Palaemon macrodactylus: an interrogation of records and a synthesis of data. Crustaceana, 86: 594-624.
De Grave, S. & CW Ashelby (2013). A re-appraisal of the systematic status of selected genera in Palaemoninae (Crustacea: Decapoda: Palaemonidae). Zootaxa, 3734: 331-344.