Make a donation
The easiest way to donate to the Oxford University Museum of Natural History is via the secure Oxford Thinking website following the instructions on ways to give. You can give single gifts via debit and credit cards or set up a direct debit online, and you can also print off a giving-form for single and regular gifts, or donate over the telephone.
Donate through Oxford Thinking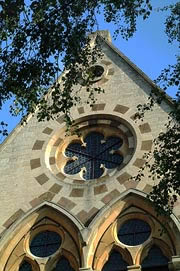 You can also donate by cheque, made payable to 'Oxford University Museum of Natural History' and sent to The Administrator, Oxford University Museum of Natural History, Parks Road, OX1 3PW.
Gift Aid it!
UK tax-payers, please note that as a charity we can claim gift-aid on your donation and increase its value by almost 30%. Please sign the gift aid declaration to make your gift go even further.
Leaving a gift in your will, or a legacy
Such gifts can help to secure the future of the Museum and the care of its collections. The University of Oxford's charitable status means that the value of any gift made to the Museum in your will is deducted before inheritance tax. If you are interested in making a legacy in favour of a particular area of the Museum's work or wish to leave an object to collections we would be happy to discuss your wishes with you. Please contact the Administrator.