Work experience student unearths priceless Alfred Russel Wallace specimens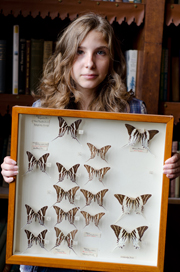 A 17-year-old student who spent just four weeks at the Oxford University Museum of Natural History has rediscovered hundreds of priceless specimens collected by Victorian natural historian Alfred Russel Wallace (1823-1913). Athena Martin joined the Museum through the Nuffield Research Placements programme, an initiative which supports young people who are studying science by giving them practical work experience.
At the Museum, Athena was tasked with searching 3,340 drawers of butterflies looking for specimens collected by Wallace, the famous naturalist who independently conceived a theory of evolution by natural selection at the same time as Charles Darwin. Her project was part of the Museum's programme of activities surrounding the 2013 centenary of Wallace's death in November 1913.
Athena applied for a placement at the Museum because she is interested in studying zoology. In total, she has rediscovered more than 300 of Wallace's finds by painstakingly reading the undersides of the tiny, handwritten labels that are pinned beside each insect in the drawers. "I spent two weeks and three days looking for the specimens. It felt really good to have found all of them as it took quite a long time and gave a sense of accomplishment at the end of it. I would now like to pursue a career in zoology, specifically looking at the behavioural side," says Athena.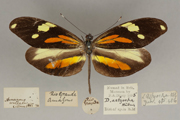 Amongst the Wallace material identified by Athena was an especially exciting find: a butterfly called Dismorphia (pictured) that was collected by Wallace in the Amazon. It is significant because most of Wallace's other Amazon specimens were lost at sea when his boat caught fire during his return journey in 1852.
Although the Museum's curators knew that a substantial amount of Wallace material was held in the butterfly collections, the accession register only lists donations and purchases from the last 150 years in 'lots'. It was unknown exactly how many of Wallace's butterflies, and of which particular species, were present in the collection. No one at the Museum had noticed the presence of Wallace's Amazon Dismorphia butterfly since it was identified in 1895, until it was discovered and its importance recognised by Athena this summer.
Athena was supervised at the Museum by Dr James Hogan, who says that Nuffield Research Placements are a great way for young people to experience working in science and to help guide them in their career decisions. "Athena has really produced some work of lasting benefit to the Museum and it shows what can be achieved with hard work and importantly, attention to detail," says Dr Hogan. "The re-discovered Amazonian specimen in particular is a significant find in terms of the history of science and natural history collecting in the 19th century."
Prior to her placement at the Museum Athena had heard of Wallace, but knew little of his achievements and work. "I was a bit confused when I first found the Amazon specimen," she says, "because I thought there might have been a labelling error due to the unusual location in comparison to the other specimens I was finding. It wasn't until I showed the specimen to James that I found out that it was from the Amazon."
On 12 December, the Museum is also hosting a special day of talks, tours and activities for secondary school teachers, focusing on Wallace's contribution to science, our understanding of life and the Museum's collection.
Enquiries regarding events at the Museum should be sent to: info@oum.ox.ac.uk