Earth Collections: staff
Collections staff have varied research interests and maintain an active acquisition policy. Further details of their work are summarised below.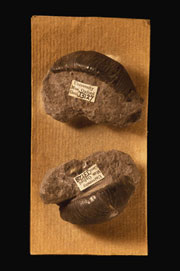 Head of Earth Collections: Miss E. A. Howlett

Collections staff:
Ms H. Allum
Ms J. Hay
Dr H. Ketchum
Dr R. Knight
Miss M.T. Price
Eliza Howlett Head of Earth Collections
Primarily responsible for the invertebrate palaeontology collections, but also general oversight of vertebrate palaeontology, minerals and rocks.
Curatorial interests: collections management, digitisation, taxonomy, collections moves, working with volunteers.
Research interests: history of palaeontology from 1650 to 1900 (especially William Buckland, Elizabeth Philpot and Charles Lyell), people and places, scientific networks.
Current projects include: digitising the Charles Lyell fossil collection; curation of the Early Life and Cenozoic collections; inventory, conservation and re-storage of new acquisitions.
Hannah Allum Project Manager - Collections Move Project
Alongside the project team, responsible for relocating petrological and palaeontological material from an off-site store to improve collections access, documentation and storage conditions.
Curatorial interests: historical collections and collectors research, storage techniques and museum documentation detective work.
Juliet Hay Conservator
Collections support responsibilities
Curatorial interests: conservation and replication (moulding, casting) of palaeontological material; maintenance of conservation records; construction of geological displays, including mounting techniques, together with their monitoring and maintenance; supporting collections fieldwork activities.
Current projects include local geology displays; creating a representational set of moulds for teaching purposes, and moulding and casting for research work.
Hilary Ketchum Collections Manager
Responsible for the fossil vertebrates.
Curatorial interests: collections management, digitisation, taxonomy, and Mesozoic marine reptiles.
Current projects include: curation of Pleistocene mammals from the William Buckland collection; curation, conservation and re-storage of large Jurassic vertebrates.
Robert Knight Collections Manager
Responsible for minerals and rocks.
Curatorial interests: specimen identification; cataloguing the collections; acquisition of new material; developing the collections for research, education and public engagement.
Research interests: the genesis, discovery and extraction of ore deposits; magmatic and hydrothermal processes applied to economic geology; mineral chemistry.
Monica Price Collections Manager
Curatorial duties: cataloguing and conserving the collections; preparing museum displays; identifying mineral specimens; teaching curation methods to graduates entering museum careers and to amateur collectors.
Research interests: topographic mineralogy; infrared spectroscopy as a mineral identification technique; research into the history of the Oxford mineral collections; techniques in geological curation.
Current projects include: researching the history of the Corsi Collection of decorative stones; building up a library of infrared spectra for use in identification and research; preparing guidelines for the sources and uses of terminologies for museum geological collections.
Enquiries regarding the collections should be sent to: earth@oum.ox.ac.uk