Life Collections: entomology archives database
The Hope Entomological Library is the third largest library of its kind in the United Kingdom, with some 7,500 bibliographic items, including over 100 current journal titles, and over 66,000 offprints. The archives consist of some 56 collections, of which about a dozen are very substantial, reflecting the collector's life's work. These are housed in nearly 400 boxes, which are arranged by associated collector/collection. Additionally, there are small collections of correspondence from many other entomologists. The archives contain valuable information both relating to the collections and the entomologists associated with the Museum. The archive consists of correspondence, field note-books, original artwork, diaries, manuscripts of published papers and catalogues, and annotated published works.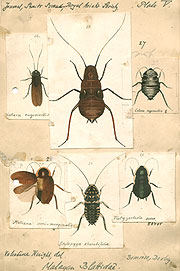 Field names in the database
Name: The name of the entomologist/collection with which the material is associated.
Birth Date - Death Date: The birth and death dates of the entomologists, where known.
Date: The years from which the archive originates.
Summary: Synopsis of the archive. Restricted to: Artwork (original drawings, paintings); Catalogue (of collections/species); Correspondence (letters etc); Diaries; MS notes (encompasses all manuscripts and research notes); Notebooks, Photographs.
Description: Provides details of the contents of the archives, including a brief description of artwork, correspondence, diaries, and manuscripts.
Notes: Extra information referring to archive.
Associated Names: List of people associated with the archive.
Further reading
Smith, A.Z. (1986) A history of the Hope Entomological Collections in the University Museum, Oxford. Oxford: Clarendon Press.
Search the database
How to use the databases
A guide to searching the databases
Enquiries regarding the collections should be sent to: life@oum.ox.ac.uk