Life Collections: collectors and collections
The zoological collections are of great historical importance, with unique material, including the most complete remains of the extinct dodo. Other collections include those of Charles Darwin, amassed during his voyage on The Beagle, and those of Thomas Bell and William Burchell, prolific natural historians in their own right.
Charles Darwin
An introduction to Darwin, and the material he collected during his voyage
Thomas Bell
Bell's life and the important collections he gave to the Museum
William Burchell
A brief biography of this important zoologist's life and work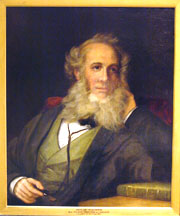 John Obadiah Westwood
The entomological collections represent one of the best entomological resources in the United Kingdom. They began with the bequest by the Reverend Frederick W. Hope of his entire collection in 1849. The Hope Professors, Westwood, Poulton, Hale Carpenter, and Varley also amassed large amounts of material. These articles provide information about the entomological collections and archives, and the Diptera type material.
Entomological collections
A summary of the collections at the Museum
Entomological archives
A summary of associated archival material
The Diptera
The important collections of Verrall, Collin, Bigot and Macquart
Enquiries regarding the collections should be sent to: life@oum.ox.ac.uk