Life Collections: Diptera databases
The Diptera holdings of the Hope Entomological Collections of the Oxford University Museum of Natural History are amongst the most important collections of this order in the UK, containing over 300,000 specimens and over 2,500 types.
The most important British collection held in the HEC is the Verrall-Collin collection, but others of note include: A.H. Hamm, P. Harwood, F.W. Hope, J.O. Westwood, L.W. Grensted, B.M. Hobby, J. Collins, E.S. Brown, L.H. Woollatt, B. Dean; there is also extensive material from A.R. Wallace, J.W. Yerbury, E. C. M. d'Assis-Fonseca, D.M. Ackland, J.W. Ismay.
The entomologist G. H. Verrall (1848-1911) published his first paper on Diptera in 1866. His nephew J. E. Collin (1876-1968) published his last (posthumous) paper in 1969. Together they dominated the study of British Diptera for a century and formed what was probably on of the finest private collections of Diptera. Indeed, the collection still remains the most comprehensive single collection of British Diptera.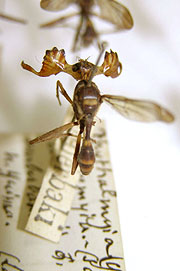 Between them Verrall and Collin described some 900 species of Diptera which are housed at the Oxford University Museum of Natural History. Their collection also includes the original material (the 'types') for many other species. In the late-1880s Verrall purchased the important collection of the Austrian dipterist Ferdinand Kowarz (1838-1914), which contained many types of European Diptera including some of those of Hermann Loew (1807-1878), and in 1893 he also purchased the collection of the French Dipterist Jacques-Marie-Frangile Bigot (1818-1893) with its wealth of exotic Diptera types described by Bigot himself and by his compatriot Pierre-Justin-Marie Macquart (1778-1855). Because of the size and breadth of the collections they were consulted by numerous dipterists in Britain and elsewhere in Europe, and received much additional material through exchanges or as gifts.
Bigot-Macquart Diptera Collection
The Bigot Exotic Collection is in two cabinets. It contains types of Diptera described by Bigot and Macquart, and also syntypes from a number of other authors. It does not contain all the Bigot types, since certain families from the collection were presented at various times by Verrall and Collin to the Natural History Museum, London (BMNH). As it is a "historic" collection, it has been kept in its original arrangement.
The Verrall-Collin Diptera Collection
The majority of the types in the Verrall-Collin Collection have been located and catalogued. This database includes all the Diptera described by Verrall and Collin, and contains 925 entries with the following fields: family; genus; species; author; type-material in Oxford; Verrall-Collin type number; notes (type-material in other museums). Within the Verrall-Collin database species are in the current generic placement (as of 1995). Verrall-Collin material is located in a number of museums worldwide, and these are referred to in the databases by their acronyms (see below).
Full information on the Verrall-Collin Collection can be found in: A. C. Pont. 1995. The type-material of Diptera (Insecta) described by G.H. Verrall and J.E. Collin. Oxford University Museum Publication 3: x + 223 pp. Clarendon Press, Oxford.
Palaearctic Diptera Collection
The Verrall-Collin Collection of Palaearctic Diptera, which contains the Kowarz Collection and Bigot's Palaearctic material is housed in two special cabinets and is also scattered through several standard cabinets; one twenty-drawer standard cabinet contains some elements from the Kowarz Collection, some of Bigot's Palaearctic material, and some residual, partly-sorted material from Bigot. This collection also contains syntypes of species described by numerous other authors such as Becker, Bezzi, Desvoidy, Dziedzicki, Girschner, Laboulbene, Loew, Lundbeck, Mik, Oldenberg, Rondani, Stackelberg, Stein and Zetterstedt.
Search the databases
How to use the databases
A guide to searching the databases
Enquiries regarding the collections should be sent to: life@oum.ox.ac.uk