Life Collections: Pickard-Cambridge arachnid database
The Pickard-Cambridge database lists most of the exotic arachnid material donated by Octavius Pickard-Cambridge to the Hope Entomological Collections in 1917. It contains many type specimens described by O.P-C. and his contemporaries.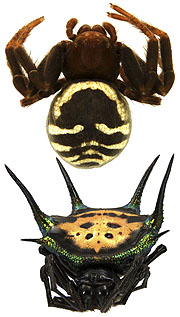 In the 1960s the collection was transferred to new jars. A card index catalogue was created, but the arrangement of the collection remained as it was presented. It was not organised in taxonomic order, and as a consequence specimens can be difficult to locate. The collection is housed in over 2,500 bottles, each of which contains 1-15 tubes, and each tube may contain multiple specimens.
The online database does not have data about all the specimens: only those with sufficient data to be of value to researchers are included.
If you are unable to find information on a species or specimens that you require, please contact the curator.
Search the database
How to use the databases
A guide to searching the databases
Enquiries regarding the collections should be sent to: life@oum.ox.ac.uk