Life Collections: mammals database
The mammal collections comprise nearly 5,000 specimens, representing more than 750 different species. Around 500 of these specimens are British, representing over 60 species native to the United Kingdom.
To search the Mammals database please enter a search term in one or more fields and press submit.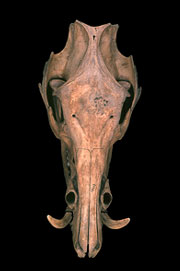 How to use the databases
A guide to searching the databases
More about the database and collection
A description of the size and scope of the collection
Enquiries regarding the collections should be sent to: life@oum.ox.ac.uk