Life Collections: Darwin database
While Darwin was studying divinity at Cambridge he developed an interest in natural history and was accepted as the naturalist on an expedition that was being organised by a group of scientists. This was the voyage of The Beagle (1831-1836).
Darwin not only made ecological and geological observations during the voyage of The Beagle, but also collected copious numbers of specimens. On his return to England these were entrusted to various scientists for study, with the Crustacea being sent to Thomas Bell. However, these were never properly described, and they remained in Bell's cabinets for many years. In 1862 much of the Bell Crustacea collection was purchased by J. O. Westwood, the first Hope Professor of Zoology, on behalf of the Oxford University Museum of Natural History. Over the years, this material was transferred to the Zoology Collections, with the last transfer (of the dry material) having taken place in 1975.
The Darwin zoological material still existing today chiefly comprises crustaceans, but also a few other invertebrates (such as insects, seaspiders, millepedes, spiders, etc.). Some of this material is stored dry and some preserved in spirit, although it is clear from Darwin's notebooks that originally everything was stored in spirit. Many of the surviving specimens have either numbered labels attached to them in Covington's (Darwin's servant on The Beagle) handwriting, or numbered metal tags. These numbers correspond with those listed in the "Catalogue for specimens in Spirit of Wine" - a chronological listing of specimens collected throughout the voyage.
All the crustaceans listed in this catalogue are marked in pencil with the letter 'C', presumably to allow a separate list to be copied out. In total, 230 specimen lots are marked as crustaceans in the catalogue, however, only 110 can be traced in the zoological collections today; further specimens can be tentatively linked to Darwin through more circumstantial evidence.
This database holds details of the dry material in the Darwin collection. For details of the spirit preserved material see Chancellor et al. (1988). The existing dry material which can be positively attributed to Darwin consists of 40 taxa (39 decapods and 1 stomatopod), collected from 15 worldwide locations.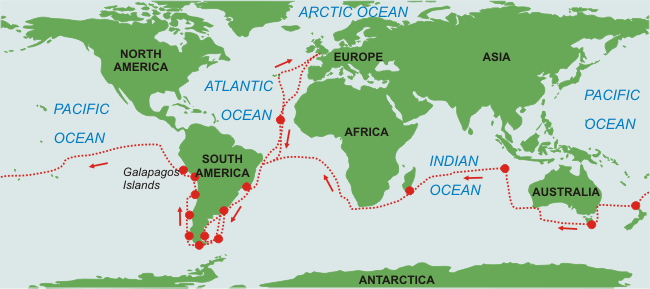 References:
Chancellor, G., A. diMauro, R. Ingle & G. King (1988). Charles Darwin's Beagle collections in the Oxford University Museum. Archives of Natural History, 15: 197-231.
Search the database
How to use the databases
A guide to searching the databases
Learn more about Darwin's collections (PDF, 228kB)
Enquiries regarding the collections should be sent to: life@oum.ox.ac.uk