Corsi's other collections
After he sold his collection of decorative stones to Stephen Jarrett, Corsi made at least one more collection, very different in style, which was presented to the British Geological Survey and is now in the Natural History Museum in London.
Captain Palliser's tables
Corsi later made a second collection of marbles in the form of small square slabs inlaid in two table tops. One was of 'ancient' stones, and the the other of 'modern' ones. Corsi's manuscript list of the stones states that he sold the two tables to Signor Captain Palliser on 18 February 18331.
Captain Richard Bury Palliser (1797-1852) of the 12th Hussars had married Fanny Marryat (1805-1878), the sister of the novelist Captain Frederick Marryat and of the ceramics expert Joseph Maryatt. Mrs Palliser was deeply interested in various aspects of the applied arts, and is remembered particularly for her book History of Lace published in 1865. The Pallisers resided at Seacocks (now Seacox) Heath, near Hawkhurst in East Sussex, and the tables were at one time known as the 'Seacocks marble collection'2.
At some time after Richard Palliser's death, the Geological Survey of Great Britain acquired the tables from his widow. They were displayed in the Survey's Museum of Practical Geology in Jermyn Street, London where normally only British specimens were exhibited, an exception being made 'in consideration of the fact that the specimens were collected by Corsi and named on his authority'3. The museum guide of 1877 gives the following description:
'A pair of MARBLE TABLES, 3 feet 10 inches high, splendidly mounted in richly carved gilt frames, supported by dolphins. Each slab measuring 5 feet by 2 feet 8 inches, contains 1012 specimens, the one of ancient, the other of modern marbles, collected by Professor Corsi of Rome.'4
Later, the tables were moved to the Italian Art collection at the Victoria and Albert Museum where they were mounted on a wall. In 1904 John Allen Howe, an expert on building stones and the curator of the geological museum, initiated moves for the return of both marbles and catalogue to Jermyn Street, noting the collection 'is constantly wanted for reference'5. It was an intervention by Professor Henry Miers of the University Museum in Oxford, that led to the return of the marbles to the geological museum.
In 1935, the marbles were moved, along with the Survey's other collections, to the new Geological Museum in Exhibition Road, next door to the Natural History Museum which had been completed fifty-five years earlier to house the British Museum's natural history collections. In 1985, when the Survey moved to new headquarters near Nottingham, the Geological Museum and many of its collections, including Corsi's marble-inlaid table-tops, came under the management of the Natural History Museum. Thus the British Museum did eventually acquire its own Corsi collection of decorative stones. The original ornate carved table-legs had been lost, but the very beautiful marble tops are now preserved in the Museum's Mineralogical Department6.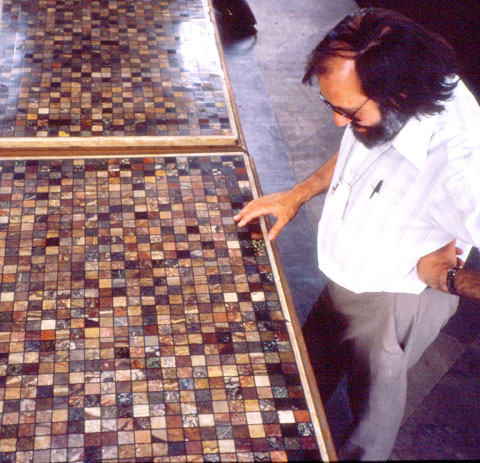 A third collection?
Henry Miers wrote in around 1907 'There is a duplicate collection in existence consisting of precisely similar specimens and also made by Corsi. This is preserved in the University Museum at Rome where it is regarded as a collection of the greatest importance and is supposed to be unique. In reality the Roman Collection lacks the 100 specimens added by Jarrett to the Oxford series'7. Mary Porter repeats the same assertion in her book What Rome was built with. There is no evidence such a collection exists, and that both Miers and Porter were probably describing a collection of around 600 samples made by Tommaso Belli, now in the geological museum of La Sapienza University. These are of very similar dimensions to those in Corsi's Oxford collection.
1 Ms ; Corsi, F. (1833), Descrizione de due tavole di Marmo: ciascuna delle quali contiene mille e dodici mostre di pietre diverse 86pp. Library, Natural History Museum, London, inscription on frontispiece.
2 Ms; 3 Feb 1952 correspondence between E. Heymes (English Place-name Society) and the curator of the Ashmolean Museum, , with copy of letter of same date from Heymes to Lord Goschen, in which Heymes seeks information about Seacocks collecton of marbles. OUMNH Min archive Corsi/176, and reply by R.C. Spiller (Reader in Mineralogy) 8 Feb 1952. Oxford, OUMNH Min archive Corsi/176..
3 Museum of Practical Geology (Great Britain), 1896 A handbook to the Museum of Practical Geology, Jermyn Street, London S.W. (London: Her Majesty's Stationery Office) p.38.
4 Ms ; Corsi, F. (1833), op.cit. Cutting from an unspecified book, most probably one of the guides to the Museum of Practical Geology, attached to the frontipiece.
5 Ms; memos 21 Dec 1904 - 12 Jan 1905, between: J. Allen Howe (Curator and Librarian, Geological Museum), J.J.H. Teall (Director, Geological Survey), F.G. Ogilvie (Principal Asst. Secretary, Board of Education), W.I. Last (Science Director, V&A Museum), and Sir Purdon Clarke (Director, V&A Museum). Keyworth, British Geological Survey Archives Correspondence/papers GSM2/308, 1904; Ms; 17 Jan 1905, letter J. Allen Howe to Prof. A.H. Miers OUMNH Min archive Corsi/175.
6 Although commonly known as the Natural History Museum, the British Museum (Natural History) did not officially change its title until 1992. At the time of writing (Jan 2012) the tables are displayed behind the scenes in the Mineralogical Department and can be viewed by appointment.
7MS notes on the Corsi Collection by H.A. Miers, probably c.1907. Oxford, OUMNH Min archive Corsi/021. The presence of a 'duplicate collection' is repeated in Porter, M.W. 1907 What Rome was built with (London, Oxford etc: Henry Frowde) preface v.