Earth Collections: type, figured and cited database
The fossil types database contains details of all type, figured, and cited fossils in the Museum's geological collections. At present the database contains approximately 13,000 records, but this number is steadily increasing as new papers are published and other specimens become type, figured, or cited.
To search the Fossil Type database please enter a search term in one or more fields and press submit.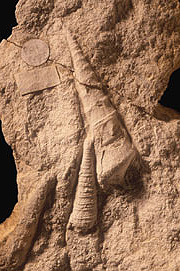 How to use the databases
A guide to searching the databases
More about the database and collection
A description of the size and scope of the collection
Enquiries regarding the collections should be sent to: earth@oum.ox.ac.uk