Lewis Carroll in the Museum
The Oxford mathematician Charles Lutwidge Dodgson was a regular visitor to the Museum. Specimens he saw there inspired some of the characters in his famous stories of Alice's Adventures in Wonderland, which he wrote under the more familiar name Lewis Carroll.
Dodgson's early life
Charles Lutwidge Dodgson was a shy, retiring lecturer in mathematics at Christ Church. Born in 1832, he was the eldest in a family of thirteen, and grew up inventing games and stories to amuse his siblings. Dodgson's imagination and respect for children continued into adulthood, and in 1856 he befriended Alice Liddell, daughter of the Dean of Christ Church, and her sisters, Edith and Lorina.
Visits to the Museum
Dodgson often visited the Museum accompanied by the young Alice Liddell and her two sisters. The animals they saw there, their friends, and familiar places around Oxford often became incorporated into the stories Carroll created for his young friends. The dodo was a favourite for Dodgson and some believe that Jan Savery's painting of a dodo, which hangs in the Museum, was the original inspiration for the character of the dodo in Alice's Adventures in Wonderland.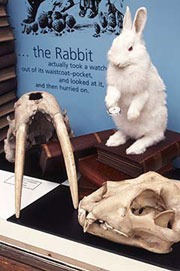 A boating trip on the Thames
On July 4th 1862, Dodgson headed a rowing expedition on the Thames; his party included the three girls and fellow don, the Reverend Robinson Duckworth. During the afternoon, Dodgson spun out a series of fantastic yarns incorporating friends and familiar places in Oxford, mathematical riddles, literary allusions and countless references to natural history. By the end of the trip, the famous story of Alice's Adventures in Wonderland was born.
Dodgson wove his tale around the party. The characters included an eaglet (Edith), a lory (Lorina), a duck (Duckworth), and, typically self deprecatingly, a dodo for the stammering Dodgson himself. Alice begged him to write the story down. Two years later, he gave her a hand-written, green leather notebook containing the story of Alice's Adventures Underground, and Dodgson's own sketches.
Publishing Alice
In 1865, Dodgson published Alice's Adventures in Wonderland under the name Lewis Carroll. His name change can be traced quite logically, in typical Dodgsonian style, to its root: Carolus is the Latin for Charles, and Ludovic for Lutwidge, and then, Lewis.
Having received criticism of his own drawings, Dodgson commissioned John Tenniel to illustrate Alice's Adventures and its sequel, Through the Looking Glass, with a series of woodcuts. He and Tenniel were in constant communication whilst the series was produced; Dodgson often encouraged Tenniel to use a model, but Tenniel retorted that he needed a model about as much as Dodgson needed a multiplication table!
During Dodgson's lifetime his books sold 160,000 copies and provided him with such a comfortable income that he asked Christ Church to reduce his salary.
Dodgson's life after Alice
Dodgson remained at Oxford until 1881, and continued to lecture in mathematics and logic at Christ Church. He had many other interests and was a noteworthy photographer, experimenting with various subjects including some specimens from the Museum. Dodgson was also a lover of logic puzzles, writing many of his own. The Museum has a small collection of these games and other memorabilia, copies of which are in a display in the lower gallery. The curators of the Museum would like to thank Mrs S. Scourfield for the loan of material on display in the Dodgson exhibit.
This article is also available as a fully illustrated PDF
Learning more ... Lewis Carroll in the Museum (PDF, 166kB)
To read this file you will need to download Adobe Reader
Learning more articles are free to all users for educational, non-profit purposes.