Learning more ... index
The following is a full list of Learning more articles arranged alphabetically by keyword. It covers subjects of special interest from each of the four collections, as well as articles on the architecture, history and famous features of the Museum.
All the articles listed here are in PDF format, but text friendly HTML versions of each article are also available.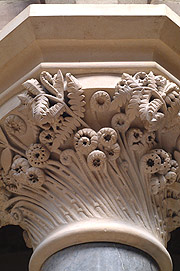 A B C D E F G H I J K L M N O P Q R S T U V W X Y Z
Alice
The real Alice, Charles Dodgson and Lewis Carroll
Architecture - of the Museum
The design and beauty of the building
Architecture - statues in the court
Great scientists depicted in stone
Architecture - stonework of the Museum
Columns, capitals and corbels
Architecture - the Pre-Raphaelites and the Museum
Dr John Holmes tells the story of the Pre-Raphaelites and the Museum

Bell
A biography of Thomas Bell
Buckland
A biography of the famous geologist, William Buckland
Buckland - his journey to the continent
In 1816 Buckland travelled to Europe with other geologists
Burchell
An introduction to the life of the zoologist William Burchell
Carroll
The real Alice, Charles Dodgson and Lewis Carroll
Darwin
Charles Darwin and his collection at the Museum
Dinosaurs
The dinosaurs in the Museum
Displays - of the central aisle
The displays in the central aisle of the main court
Displays - live displays
The the live insect displays and the bee hive
Displays - the rocks and minerals aisle
The petrology displays, touchables and mineralogy
Dodgson
The real Alice, Charles Dodgson and Lewis Carroll
Dodo
The famous Oxford specimen
Entomology
A full list of entomological topics
Entomology - live displays
The live insect displays and the bee hive
Entomology - keeping live insects
An introductory guide to the joys of keeping insects
Geology
A full list of palaeontological topics
Great Debate
The famous evolutionary debate
Insects - live displays
The live insect displays and the bee hive
Insects - keeping live insects
An introductory guide to the joys of keeping insects
Live displays
The live insect displays and the bee hive
Lhwyd
Edward Lhwyd, an early fossil collector
Meteorites
Rocks from space
Mineralogy
A full list of mineralogical topics
Minerals - Oxfordshire minerals
Common minerals from around the county
Minerals - the rocks and minerals aisle
The petrology displays, touchables and mineralogy
Petrology
A full list of petrological topics
Petrology - displays
The petrology displays, touchables and mineralogy
Plot
A biography of the famous geologist, Robert Plot
Rocks - the rocks and minerals aisle
The petrology displays, touchables and mineralogy
Statues
The greatest scientists depicted in stone
Stonework
Columns, capitals and corbels
Swifts in the tower
The famous swifts of the Museum
Wager
A biography of the earth scientist, Lawrence Wager
Zoology
A full list of zoological topics
Learning more articles are free to all users for educational, non-profit purposes.
They are PDF format and are usually 500kB or less in size.
To read these files you will need to download Adobe Reader