Learning more ...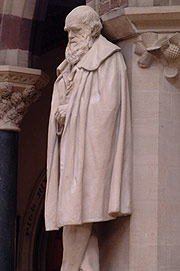 Darwin statue in the main court
The Museum is dedicated to the development of educational resources for a range of audiences.
'Learning more' provides a range of natural science resources for older students, researchers and life-long learners. We also provide historical articles, details of the displays, and biographies of our most famous collectors.
The articles are arranged by collection and can be accessed by clicking on the appropriate link.
Learning more articles are free to all users for educational, non-profit purposes.
They are PDF format and are usually 500kB or less in size; to read them you will need to download Adobe Reader. Alternatively, you can access text friendly HTML versions of each article.