Learning more ... mineralogy and petrology
The mineralogical and petrological collections are responsible for the Museum's collections of minerals, rocks, decorative stones, gemstones and meteorites.
The following articles introduce these collections, and to their displays in the Museum. They also describe some of them more significant collectors and collections, including those of Corsi, Wager and Buckland.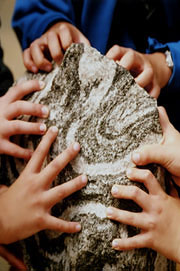 The rocks and minerals aisle
The mineralogy and petrology displays, and touchable specimens
Oxfordshire minerals
A guide to the minerals found around the county
Rocks from space
An introduction to meteorites
Lawrence Wager
Wager was known for his pioneering geological work in Greenland
William Buckland
A biography of this significant geologist
Buckland's journey to the Continent
In 1816 Buckland travelled to Europe with other geologists
Learning more articles are free to all users for educational, non-profit purposes.
They are PDF format and are usually 500kB or less in size.
To read these files you will need to download Adobe Reader