Edward Lhwyd
The earliest documented geological specimens to survive in the Museum's collections are those described by Lhwyd in his Lithophylacii Britannici ichnographia of 1699. One hundred and twenty copies were published in February of that year; a second, posthumous, Editio Altera was published in 1760. A selection of Lhwyd's surviving specimens, are held by the collections today.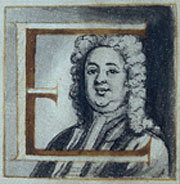 Who was Edward Lhwyd?

Edward Lhwyd was born in 1660, the illegitimate son of Edward Lloyd of Llandforda, near Oswestry, Shropshire, and Bridget Pryse of Gogerddan, Cardiganshire. In 1682 he entered Jesus College, Oxford, where he studied for five years, although he did not finish his degree course. He supported himself by becoming assistant to Robert Plot (1640-1696), first Keeper of the Ashmolean Museum, and succeeded him as Keeper in 1691. One of Lhwyd's first tasks was to catalogue the new museum's collection, which included many "formed stones", as fossils were then termed. His spare time was spent scouring the quarries of Oxfordshire for specimens for the collection. He trained quarrymen to recognise fossils, paying them for finds. He corresponded with collectors around Britain in order to trade specimens with them, and also travelled a great deal himself.
In 1686, Lhwyd put before the Oxford Philosophical Society a new catalogue of all the British fossils in the Ashmolean Museum, and over the next few years he continued to add to it, with a view to publication. The work eventually appeared in 1699. Written in Latin and entitled Lithophylacii Britannici ichnographia, it consisted of a catalogue of 1,766 minerals and fossils, and was the first illustrated catalogue of a public collection of fossils to be published in England. Lhwyd's aim was to take the contents of the museum cabinets and put them into the hands of the field-worker, and several aspects of the work reflect this - the text was entirely in Latin and thus accessible to a pan-European readership, the engravings of fossils would enable even beginners to recognise immediately those things that they might discover, and the book could easily be taken into the field and used there because of its handy octavo size.
As an appendix at the end of the book were six letters to friends, dealing with geological subjects. The sixth, addressed to John Ray and dated 29 July 1698, extends to twelve pages, and sets out Lhwyd's views on the origin of fossils. "He suggested a sequence in which mists and vapours over the sea were impregnated with the 'seed' of marine animals. These were raised and carried for considerable distances before they descended over land in rain and fog. The 'invisible animacula'; then penetrated deep into the earth and there germinated; and in this way complete replicas of sea organisms, or sometimes only parts of individuals, were reproduced in stone. Lhwyd also suggests that fossil plants known to him only as resembling leaves of ferns and mosses which have minute 'seed', were formed in the same manner. He claimed that this theory explained a number of features about fossils in a satisfactory manner: the presence in England of nautiluses and exotic shells which were no longer found in neighbouring seas; the absence of birds and viviparous animals not found by Lhwyd as fossils; the varying and often quite large size of the forms, not usual in present oceans; and the variation in preservation from perfect replica to vague representation, which was thought to represent degeneration with time" (Edmonds, 1973, p. 307-8).
Lhwyd discovered the keepership of the Ashmolean to be "a mean place, seeing there is no salary", and his chief source of income must have been the fees paid by visitors for seeing the curiosities. At home he lived a quiet life at Eynsham, near Oxford. He is described as "a person of singular modesty, good nature, and uncommon industry", often referred to by his contemporaries as "honest Lhwyd" (Thomas, 1909). In November 1708, Lhwyd was elected fellow of the Royal Society, but he did not long survive his election. He had suffered from asthma for many years, and died in the Old Ashmolean Museum on 30 June 1709, of the combined effects of asthma, pleurisy, and, it is said, a chill caught from sleeping in damp quarters in the Museum. He was buried in St Michael's church, in the south aisle, appropriated to Jesus College and known as the Welsh aisle. A monument now marks the spot.
Bibliography: selected publications
Lhwyd, E. 1693. Eduardi Luidii apud Oxonienses Cimeliarchae Ashmoleani, ad Clariss. V.D. Christophorum Hemmer, Epistola; in qua agit de lapidibus aliquot perpetua figura donatis, quos nuperis annis in Oxoniensi & Vicinis agris, adinvenit. Phil. Trans. R. Soc., 17 (200), 746-754, 1 pl. (opposite p. 733).
Lhwyd, E. 1698. Part of a Letter from Mr. Edw. Lhwyd to Dr. Martin Lister, Fell. of the Coll. of Phys. and R.S. concerning several regularly Figured Stones lately found by him. Phil. Trans. R. Soc., 20 (243), 279-280, 1 pl. (opposite p. 269).
Lhwyd, E. 1699. Lithophylacii Britannici ichnographia. Sive Lapidum aliorumque Fossilium Britannicorum singulari figura insignium, quotquot hactenus vel ipse invenit vel ab amicis accepit, Distributio Classica: Scrinii sui lapidarii Repertorium cum locis singulorum natalibus exhibens. Additis rariorum aliquot figuris aere incisis; cum Epistolis ad Clarissimos Viros de quibusdam circa marina Fossilia & Stirpes minerales praesertim notandis. First Edition. Printed for the subscribers, London, 139 pp., 23 pls.
Lhwyd, E. 1699. Part of a Letter from Mr. Llwid to Dr. Tancred Robinson, F.R.S. concerninga Figured Stone found in Wales; with a Note on it, by Hans Sloane, M.D. Phil. Trans. R. Soc., 21 (252), 187-188, 1 pl. (opposite p. 149).
Lhwyd, E. 1704. Part of two Letters from Mr Edward Lhwyd, Keeper of the Ashmolean Repository in Oxford, to Mr Samuel Dale of Braintree in Essex, concerning Fossils. Phil. Trans. R. Soc., 24 (291), 1566-1567.
Lhwyd, E. 1712. Some farther Observations relating to the Natural History of Wales. In a Letter from Mr. Edw. Lhwyd to Dr. Tancred Robinson, F.R.S. Phil. Trans. R. Soc., 27 (334), 467-469.
Lhwyd, E. 1712. A Letter from the late Mr. Edward Lhwyd, Keeper of the Ashmolean Museum in Oxford, to Dr. Tancred Robinson, F.R.S. Giving a farther Account of what he met with remarkable in Natural History and Antiquities, in his Travels thro' Wales. Phil. Trans. R. Soc., 27 (335), 500-503, 1 pl. (opposite p. 477)
Lhwyd, E. 1712. Some farther Observations relating to the Antiquities and Natural History of Ireland. In a Letter from the late Mr. Edw. Lhwyd, Keeper of the Ashmolean Museum in Oxford, to Dr. Tancred Robinson, F.R.S. Phil. Trans. R. Soc., 27 (336), 524-526.
Lhwyd, E. 1760. Lithophylacii Britannici ichnographia. Edition Alterata. Clarendon Press, Oxford, 156 pp.
Further reading
Edmonds, J.M. 1973. Lhwyd, Edward. pp. 307-308. In Gillespie, C.C. (ed.). Dictionary of Scientific Biography, 8. Charles Scribner's Sons, New York, 620 pp.
Gunther, R.T. 1925. Early Science in Oxford. Vol. III. Part I. The biological sciences. Part II. The biological collections. Printed for the subscribers, Oxford, xii + 564 pp., 60 pls.
Gunther, R.T. 1945. Early Science in Oxford. Vol. XIV. Life and letters of Edward Lhwyd. Printed for the subscribers, Oxford, xv + 576 pp., 14 pls.
Hellyer, M. 1966. The pocket museum: Edward Lhwyd's Lithophylacium. Archives of Natural History, 23, 43-60.
Jahn, M.E. 1972. A note on the editions of Edward Lhwyd's Lithophylacii Brittanici ichnographia. Journal of the Society for the Bibliography of Natural History, 6, 86-97.
MacGregor, A. 2001. The Ashmolean Museum: A brief history of the Institution and its collections. Ashmolean Museum, Oxford 80 pp.
Rudwick, M.J.G. 1972. The meaning of fossils: Episodes in the History of Palaeontology. MacDonald, London; American Elsevier, New York, 287 pp.
Thomas, D.L. 1909. Lhwyd, Edward. pp. 1096-1098. In Lee, S. (ed.). Dictionary of National Biography, 11. Smith Elder, London, 1335 pp.
Archives
Bodleian Library, Department of Special Collections and Western Manuscripts
Broad Street, Oxford OX1 3BG
Tel: +44 (0)1865 277158
British Library, Department of Manuscripts
96 Euston Road, London NW1 2DB
Tel. +44 (0)20 7412 7513
National Library of Wales, Department of Manuscripts and Records
Aberystwyth, Ceredigion, Wales SY23 3BU
Tel: +44 (0)1970 632800
Natural History Museum, Archives
Cromwell Road, London SW7 5BD
Tel: +44 (0)20 7942 5507
Royal Society of London, Library
6 Carlton House Terrace, London SW1Y 5AG
Tel: +44 (0)20 7451 2606
Sackler (Ashmolean) Library
1 St John Street, Oxford, OX1 2LG
Tel: +44 (0)1865 278087
This article is also available as a fully illustrated PDF
Learning more ... Edward Lhwyd (PDF, 1.56MB)
To read this file you will need to download Adobe Reader
Learning more articles are free to all users for educational, non-profit purposes.